Jorge Brito, the owner of Banco Macro, confesses with enthusiasm. He has just bought the Argentine subsidiary of Banco Itaú for US$ 50 million and the announcement is made the same day that Argentina receives the news of a future entry into the BRICS bloc. interviewed by Ambit on the 28th floor of the tower that Banco Macro has in the Catalinas area, he will talk about both matters, but he will also draw a prospective look at the future of the banking business and the analysis he makes of the market valuation that financial entities have local. In turn, it will evaluate the challenges and opportunities brought by the new cycle of the economy and the virtual entry into the BRICS block.
JB: Indeed. It is related to our history. In periods of crisis, where foreign banks often leave the country, we have always capitalized on those moments in order to grow. A few years ago we had attempted the same operation that we are now closing with Itaú, although on that occasion without being able to materialize it. In this case, we have been able to purchase Itaú, whose local operation was marginal compared to its presence in the rest of the region.
Q: Why did you decide to go ahead with the acquisition?
JB: Because it was an important bank in Argentina, above all, with a strong presence in the City of Buenos Aires and in Greater Buenos Aires. We have a market share of around 6% nationwide, but with a much stronger presence in the interior of the country, an average share of 12%. So, if we exclusively measure Capital and GBA, until now it was less. With the purchase of Itaú that will change. It is doubling the presence we have in the metropolitan area, which is an area with a lot of competition. For us it is a very important operation, and at the same time, given the size of the entity, today it represents 10% of the bank's total assets and 15% if we take it from deposits, that is, we will be able to absorb simple operation. Once the transaction is completed, Banco Macro will have 565 branches and 9,400 employees, providing services to approximately 6 million customers throughout the national territory.
Q: What changes could the integration of Itaú branches and their customers represent?
JB: We are not going to lose customers as a result of the acquisition. Strictly speaking, we are convinced that the service that we are going to be able to give you from now on will be online or even better than what they had. We aspire to be able to improve it because we are a specialist entity in retail, with a great digital platform and excellent home banking.
On the other hand, it seems important to me to emphasize that we are carrying out a business where we ratify a philosophy that is the way in which we have grown, strengthening our geographical presence, but maintaining the bank's focus, especially on individuals and small and medium-sized companies. .
Q: It has been mentioned that the price paid for Itaú Argentina is not too high…
JB: The price paid is in line with the valuations of financial institutions in Argentina. It is not a mystery. When one looks at the valuation of Banco Macro or Grupo Financiero Galicia, to take the two most important national capital with public offering, the valuations are around between 15% and 20% of what were their historical maximums.
Q: And why is that?
JB: First of all, when you look at banks and their valuations globally, they are generally worth the same as they were a decade ago. This is so because banks, thought of as service companies, were not immune to the threats to business that all financial disintermediation brings, mainly in the hands of non-bank financial products. It has been a challenge for central banks around the world to think about how to ensure that these platforms or companies that go outside the regulator can continue to develop but without implying systemic risk, trying to balance operations but without stepping on the head of financial entities. Banks today have many regulations, many of them are correct and old, but they always represent a very important cost and a bureaucracy that is often a negative differential for banking entities.
Q: The business has been changing…
JB: What banks did before, asset managers have been doing for twenty or thirty years, that is, managing the world's money. And more recently, financial platforms have appeared, wallets that are cash management solutions, but that go outside the banking service. This means that banks, in the world, have had a bad performance with respect to other sectors. And to that we add the impact of the activity from what we already know about Argentina, which is why the valuations of the banks are very behind in our country. These issues are combined.
Q: We are in an election year and there is a lot of volatility on the financial front. What expectation do you have?
JB: We have always bet on the country and we continue to do so. We try to say it. It is not only a patriotic act, but we do it from the total conviction that Argentina, beyond the bad governments that we have clearly had, has always represented a historic opportunity for growth. This proves it now the great opportunity offered by the relative prices we have, agricultural raw materials, energy. Strictly speaking, in terms of energy, we are close to establishing ourselves as major exporters, and minerals are also now added, especially copper, which although it already existed, is now in full growth, and lithium. Both copper and lithium are going to play a fundamental role in the entire energy transition process, going from fossil fuels to electricity, in transportation and storage. The bank has a strong presence in the north of the country where there are currently several projects of this nature.
Q: We woke up with the announcement that Argentina will be part of the BRICS…
JB: It would be foolish to deny that Argentina is already closely related to the members of the BRICS, mainly with China, which is the first trading partner. We sell and buy from it. I believe that, in this aspect, it is news that is in line with our commercial reality and that this type of agreement can deepen that link, gaining depth in trade is positive.
Source: Ambito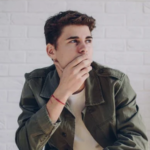 I am a 24-year-old writer and journalist who has been working in the news industry for the past two years. I write primarily about market news, so if you're looking for insights into what's going on in the stock market or economic indicators, you've come to the right place. I also dabble in writing articles on lifestyle trends and pop culture news.