Labitcoinf grouped in the Costa Salguero center crypto experts, economists, entrepreneurs, businessmen, and developers to discuss blockchain and cryptocurrencies and how this technology will continue to impact society. Ambit interviewed Julian Colombo who was recently appointed as CEO of Bitso for Argentina. In a one-on-one discussion he talked about the use of cryptocurrency by Argentines and companies and the challenges ahead for the ecosystem.
Julian Colombo: We arrived almost 10 years ago, founded in Mexico in 2014, with more than 7 million users in the region and more than a million users in our country and what we like most, more than 1,500 corporate clients. In other words, this year we focused a lot on the use of crypto for companies, so we arrived and our panel at Labitcoinf was about trying to explain how cryptocurrencies can bring advantages for companies not only in our country today, but in all countries. countries of the world.
JC: It's something new, like the entire crypto world that is relatively new. Basically it increased a lot in the last two years since 2021. What we saw was that companies began to see "what is this about crypto" and realized that it is not only about buying Bitcoin cheap and selling it expensive, but it has a lot of uses, basically crypto is a global asset, this means that it allows you to move capital from one country to another much faster and at a minimal cost compared to other means like the ones we had before.
The companies joined in seeing that it was very easy, the flow of capital and in our country particularly they joined in to dollarize their portfolio that they previously had in pesos. For example, they had to pay a client to pay a supplier or pay salaries. In this way, that money does not lose the 7% that we lose per month due to inflation or not lose around the dollar due to the evaluation of the exchange rate. Then companies began to put it in stablecoins, which are cryptocurrencies tied to the dollar. These two uses are what we saw in our country that made the curve grow a lot.
Q.: The economic context in Argentina presents a constant challenge, how do you evaluate the strategy?
JC: Without a doubt, I believe that our great advantage is that we are a global exchange with a presence in many countries, and here we have a team of almost 100 people with great knowledge of the local market and we are constantly talking to users. All the companies that register with Bitso have an account executive who speaks with them and understands what the needs are and we try to find the best product to meet those needs, so we are very aware of the things that are happening. . We try to foresee the things that may come, as happened with the dollar in the PASO, in the general elections or what could happen now. Whether with the electoral results or new government plans, we try to adapt the crypto product to these emerging needs. So I think that local expertise added to a global product that works very well makes a combo that works.
Q.: How do you see the Argentine with stablecoins for his personal money? Is there greater knowledge than a few years ago, greater use?
JC: Always look at the curve, it grows in terms of number. I mean, today we have more users than there were two days ago and two days ago there are more than there were a month ago, the number of crypto users has never decreased. We are one of the 10 countries, or 15 depending on the ranking taken, in countries with the most subscribers in the world. This can be explained because the truth is that cryptocurrencies are made for us. Stablecoins are an easy 24/7 way to dollarize your money with your cell phone from your home. So this causes more and more people to join.
Q: How do you see financial education adapted to the crypto world?
JC: I believe that we have a large deficit there not only in crypto, there is a lack of basic financial training in our country that we are trying to collaborate from the company, but that a lot of effort is also required from the public sector. We believe that, as happens with crypto use, people increasingly know more about crypto. There is still a very large gap between what average people know about crypto and what we would like them to know and I hope we can join everyone's efforts to make it smaller and smaller. From our part we do what we can, but there will always be a deficit.
Q.: Transparency and security, two key topics that became popular in the crypto system, what do you think about the crises that the ecosystem had?
JC: I think there are two things that are fundamental. One is that even though there is no regulation established by a country, it is self-regulating. We spend a lot of money, equipment, time and invest in security systems, in fraud prevention systems, in transparency systems because despite the fact that there is legislation in our country or in other countries, we believe that we have the user that give certainty that your funds are. We work with people's money, which is the most important thing a person has or is among the most fundamental things, so we have to give them certain security guarantees. I think this was a very good year, because we also began to debate with the regulators "hey, look at this set of rules that we have, it would be good if we all complied with them."
Q: On top of that, each country must have its own regulations and we must adapt…
JC: That is the main challenge, how do you adapt crypto, which is something global, to the legislation of each particular country. Here you have to make it work with the banking system, with the payment system and it is difficult. The reliability crises that you mentioned, which happen from time to time, many of which happened in the last year, make us always rethink how to be better. I think there is no choice but to continue working with it because you will always be able to learn something new and there are new failures or new problems that arise every day and we work with that.
Q: Challenges in the coming years for the company and for the ecosystem in general, what do you think they are or where do you think technology will advance?
JC: I believe that a challenge is precisely, as we mentioned, how to show everyone that cryptocurrencies are safe, that is, that by investing in the right place, cryptocurrencies are safe, that is, using a bank, or an e-commerce. Many of those same rules that we all know apply to the crypto world as well, so we would like, or the challenges we have are: first, to contribute to making this more and more public knowledge and for people to know it; Second, continue bringing more and more people to the crypto world, today in our country one in 10 people have or had crypto, I would love for it to be two out of every three or four when we talk in a year. And third, that it is increasingly integrated with everyone's daily life, that you go to the Chinese or go to the supermarket and you can pay with crypto or receive money in crypto, that you can collect your crypto salary. That is the world I would like to see in two or three years.
Q: For those who never had cryptocurrency, what can you recommend?
JC: To all those who want to join the crypto world and who think it is risky, I tell them that they can buy 200 pesos today. We have the large number that people rarely leave when they enter crypto, that is, once people enter they stay, since it has many solutions for many problems.
Source: Ambito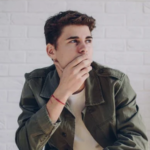 I am a 24-year-old writer and journalist who has been working in the news industry for the past two years. I write primarily about market news, so if you're looking for insights into what's going on in the stock market or economic indicators, you've come to the right place. I also dabble in writing articles on lifestyle trends and pop culture news.