The fintech ecosystem will always be part of the agenda as long as it continues to bet on technological transformation as it has been doing. With more or less diffusion, each new development is practically tailor-made, that is to say, its innovations are the result of the analysis of the behavior and needs of people when embarking on requesting any of the products that this wide world offers.
It is, in essence, a sector that has a very high volume of operations and many expectations for the future where, of the 2,500 Latin American fintech companies that exist today, they represent 22.6% of the 11,000 fintech companies that exist worldwide. approximately worldwide, according to data from The Global Fintech Index 2021 (Findexable, 2021a), which demonstrates the potential scalability of the sector.
Its common thread is innovation and aims at financial inclusion, either by socioeconomic level or by age. Regarding this last point, some of the data we have, for example, indicates that in Argentina 56% of the people who access our products are between 25 and 44 years old. Even before the pandemic, which marked an unprecedented milestone for the digitization of finances, the Argentine Fintech Chamber in its 2019 annual report already announced that 76% of users were between 25 and 40 years old. Today, the average age that uses our platform is 37 years, when prior to all fintech development, it was estimated that the average of those who were active in the financial system was 44 years.
We have seen for some time that young Argentines are showing great interest in the fintech ecosystem, especially in mobile banking and digital payment options. Likewise, in the range of loans, this trend is also on the rise, since it can be considered one of its first transactions in the financial system, as we see in the marketplace data.
So how not to pay more attention to it? The sector looks at centennials (born between 1995 and 2010) and millennials (born between 1980 and 1995) with greater attention based on consumption in these verticals, which is why the target is increasingly diversified and with medium and low incomes . Aligned with this, the global survey by the consulting firm Deloitte revealed that 29% of centennials and 36% of millennials say that their main challenge is the high cost of living, which is why they seek new alternatives for managing finances. .
In addition, to this trend is added that young Argentines are increasingly adopting cryptocurrencies as a form of investment and savings. According to data from a company in this vertical, the number of Argentine users who use its cryptocurrency buying and selling platform has doubled in the last two years.
The ease and speed of access to financial products and services enables them to be independent and autonomous in managing their personal finances, something a bit more complex in the traditional banking system.
In fact, something must be understood: it is not only about products aimed at these segments, but the most determining factor in the increase in their use is that the means of access is the Internet, perhaps the most natural environment for them.
Born and raised in digitalization
These are generations that are completely familiar with and have a great mastery of the use of mobile technologies and computers. It is very remarkable how the simplification of processes, data processing and access to unique products, almost tailor-made, have their correlate in these two groups.
On the other hand, they are characterized by their high level of demand regarding the user experience and are extremely attentive to the rating of online products. For this reason, from the companies in the sector we have to strongly attend to our UX and UI strategies of the platforms, taking into account their key role as prosumers, that is, not conceiving them only as users but as an active part in the development of products or services. innovation processes.
In summary, young people are increasingly adopting fintech as a convenient, fast and secure way to carry out financial transactions and manage their personal finances. These generations value the ease, transparency and security offered by these platforms.
In this sense, it is expected that this generation will continue to drive the adoption of digital financial solutions in the future.
CEO of Alprestamo
Source: Ambito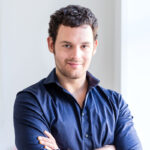 David William is a talented author who has made a name for himself in the world of writing. He is a professional author who writes on a wide range of topics, from general interest to opinion news. David is currently working as a writer at 24 hours worlds where he brings his unique perspective and in-depth research to his articles, making them both informative and engaging.