Israeli forces report airstrikes on targets in the Gaza Strip. It is a reaction to "terrorist activities" by Hamas.
Israel's air force has attacked targets in the Palestinian Territories after a rocket attack from the Gaza Strip. Among them were a weapons factory belonging to the radical Islamic group Hamas and a chemical laboratory, the army said on Twitter.
Hamas is "responsible for all terrorist activities emanating from the Gaza Strip" and must therefore "bear all the consequences," the armed forces wrote on Thursday night. According to rescue workers in the Gaza Strip, no one was injured.
A few hours earlier, Israel's military said it had intercepted a rocket fired from the Gaza Strip. Several militant groups claimed responsibility for the rocket attack. The missile was fired "out of solidarity with the female prisoners," it said. Hamas warned of a further escalation due to the "extremist agenda of the far-right Israeli government."
Earlier there were reports that Israel had tightened prison conditions for Palestinian prisoners. According to this, female prisoners are said to have been placed in solitary confinement after they had celebrated a terrorist attack. In the Palestinian Territories there is a high level of solidarity towards Palestinians imprisoned in Israel.
Israel's right-wing police minister, Itamar Ben-Gvir, said the rocket fire would not change his plans to end "good prison conditions for murderous terrorists."
Last Friday, a Palestinian in east Jerusalem opened fire on visitors to a synagogue and other pedestrians. Seven people were killed. The government then announced punitive measures against attackers and their families.
The security situation in Israel and the Palestinian territories had deteriorated further after a raid by the Israeli army in the West Bank last week that left ten dead.
Source: Stern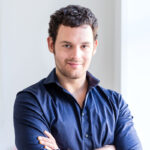 David William is a talented author who has made a name for himself in the world of writing. He is a professional author who writes on a wide range of topics, from general interest to opinion news. David is currently working as a writer at 24 hours worlds where he brings his unique perspective and in-depth research to his articles, making them both informative and engaging.