"The general ideal of beauty is changing. That should also be visible on the catwalks," demands Steffen Schraut.
Designer Steffen Schraut doesn't believe in fashion dictates. "The only question a woman should ask herself is: do I feel comfortable in this outfit?" he clarifies. In his new "Luxury with Love" collection for spring/summer 2023 at QVC, the "feel good character" is the main focus.
This is also reflected in the look book for the collection, for which star photographer Rankin (57) staged four very different models together with Schraut. "We consciously focus on cuts for all clothing sizes and body shapes, for all situations and styles. With the shooting pictures we want to show once again that my fashion is there for every woman," explains the designer, who has been exclusively developing his fashion line for the second year sold at QVC.
Their new collection has the motto "Move it like you mean it". What's it all about?

Steffen Schraut: It's about women feeling comfortable in these outfits and being able to be authentic. We only want to be on the move if this self-image is given. Then we get into the flow and express our personality. All parts that I design should move with them. Spring and summer stand for energy and dynamism. This is what my collection should embody and enable.
What are the heart of the collection?

Schraut: The core of the collection are airy dresses, blouses and trousers with modern prints and bright colors that can be styled with blazers or sneakers to create business or everyday outfits. Fresh color accents and tropical prints are intended to kindle anticipation of the warmer temperatures. The green highlight pieces and the new accessories are real eye-catchers. The focus is on the feel-good character of my collection.
In your look book for the collection, four very different models show how the individual parts can be combined in new ways and at the same time that fashion knows no borders?

Schraut: Yes, that's exactly what I want to express with the campaign. We deliberately focus on cuts for all clothing sizes and body shapes, for all situations and styles. With the shooting pictures we would like to show once again that my fashion is there for every woman. The limits are often only in our heads. We don't want to stand out too much or wear what we know in the combinations we know. Why not show some colour, boldly mix patterns or play with accessories? Of course, every woman has her personal limits, but she only gets to know them when she transcends them. Fashion itself has no limits.
The pictures were staged by star photographer Rankin. How did the collaboration come about?

Schraut: The suggestion came from QVC, but I was immediately enthusiastic because I've always wanted to work with him. I like his attitude, his projects, his creativity. He is very aware of the power of images and takes responsibility by promoting diversity and transporting messages. In addition, London is also a legendary fashion place and a source of inspiration. During the "Move like you mean it" shoot, Rankin managed to get the individual energy and dynamism out of each model. Many know him from "Germany's next top model", but it's worth looking at his other projects.
How far is the fashion industry lagging behind on issues such as diversity and body positivity?

Schraut: On the one hand, it's the fashion industry that is promoting topics like diversity and body positivity – at least when we're talking about designers who make their mark, like Becca McCharen or Brandon Maxwell. The fashion industry has the power to shape our aesthetic sensibilities and our view of society. However, in the fashion industry we are also talking about structures that have grown over decades, sometimes even centuries. This has to be broken up. This requires more courageous designers and models who show that our world is diverse and that every body is beautiful.
While the catwalks are becoming more and more diverse with transgender models and people of color, the depiction of reality with the different body shapes is not quite as accurate. Why is that?

Schraut: Here, too, it is often about outdated structures and processes. On the international catwalks, dress sizes 34/36 are often still standard. It is of course easier to provide the same size for all models. But we all know that very few women wear this size. I'm glad that there are more and more curvy models and women who are public about their curves. As far as fashion is concerned, the catwalks are always a bit more avant-garde and progressive than the general public. But when it comes to different body shapes, it's other people and brands that make their mark and revolutionize the fashion world. The general ideal of beauty is changing. This should also be visible on the catwalks.
What clothes can curvy women wear better than slim ones and vice versa? And what clothes suit every woman, regardless of size?

Schraut: Basically, I think there are no rules. The only question a woman should ask herself is: do I feel comfortable in this outfit? Airy dresses and blouses always work and are super easy to style and combine. When it comes to pants, skinny is the best fit. It suits every body type. The Cargo is definitely very trendy, albeit only flattering with a slim fit. The high waist is stylish but not flattering, I prefer another shape that casually caresses and conceals the leg.
What advice do you have for women who are struggling with fashion and haven't found their own style yet?

Schraut: The first tip is not to be irritated by fashion dictates. The wearer should not submit to fashion, rather fashion should emphasize the strengths of the wearer and make her shine. So just try it out – colors, fabrics, cuts – and feel into yourself. What do I see in the mirror? Is that me or do I feel disguised? Most have items of clothing that they have owned for a long time and like to wear. This is a good orientation for further favorite pieces and the individual style. Because if we feel comfortable with our outfit, we lose all question marks.
Which fashion trends are particularly popular this year?

Schraut: 2023 will be the year of patterns and mixes: stripes, checks, polka dots, animal prints – everything can be worn and ideally even combined. Statement chains will definitely continue to accompany us in spring/summer – newly staged and in elegant colours. Shoes, bags and accessories in general can also be a little louder, but never obtrusive. After the pandemic years, one wants to make statements in the truest sense of the word. I pick up some current trends in my QVC collection. You can be curious.
Which colors are particularly trendy?

Schraut: Black is celebrating its comeback and is being stylishly combined with trendy color accents. In addition, there is the trend color green, ideally rich and bright. But pastels will also be very trendy again in spring – with soft pink, light blue nuances, fresh mint and radiant lilac. In my current "Luxury with Love" collection, I show how great these colors are not only individually, but also in a mix.
Which luxury in the wardrobe should every woman treat herself to?

Schraut: A perfect white blouse. It is timeless and enhances every outfit. With a light cashmere cardigan, we can combine summery garments in spring or well into autumn. Women can also give themselves a feeling of luxury with a well-tailored blazer or trendy statement accessories.
And what are real fashion no-gos for you?

Schraut: As I said, I don't think much of fashion dictates. I don't want to ban anyone from wearing anything they feel comfortable in. A no-go for me is to completely change my clothes every year just because the current trend dictates it. This is neither sustainable nor a guarantee of good style.
Source: Stern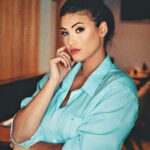 I am an author and journalist who has worked in the entertainment industry for over a decade. I currently work as a news editor at a major news website, and my focus is on covering the latest trends in entertainment. I also write occasional pieces for other outlets, and have authored two books about the entertainment industry.