Now the argument goes to the next round. In a five-minute TikTok video, Katja Krasavice reveals how Dieter Bohlen communicated with her off camera and calls him a "liar".
With Katja Krasavice, Dieter Bohlen seems to have found an opponent who does not shy away from the pop titan and DSDS jury veteran. The musician has now published a five-minute video on TikTok, in which she again comments on the dispute between her and Bohlen.
Katja Krasavice shows messages from Dieter Bohlen

First she comes to DSDS candidate Jill Lange, whose performance got the ball rolling. The reality TV participant, who can already be seen in several dating shows, wanted to prove her singing talent on "Deutschland sucht den Superstar". "Did you also do something reasonable, i.e. normal? Or did you just graduate and then let yourself be noodled?" Dieter Bohlen asked the candidate. Krasavice defended Lange on the show and made it possible for her to go one lap further. "I stand by the fact that a woman can do whatever she wants," says the 26-year-old on TikTok. "These are the values ​​for which I fight and stand," she makes clear. You don't allow a woman "in the same room, in front of me, at the rare table" to experience slutshaming, says Krasavice very clearly.
She also knew how to refute the accusation that Lange was only dismayed much later by Bohlen's statement. In the video, Krasavice shows a private Instagram message from Lange, in which she thanks her for her support. The DSDS candidate also reveals that she cried that evening after the casting.
"Now, Dieter, to you," Krasavice then says. "All the jurors on the show have been doing it for so many years, but believe me Dieter, you've found the wrong person in me." In the course of the public debate, she received messages from former members of the jury who also thanked her and who would be happy if someone stood up to Bohlen. The rapper was also able to refute Bohlen's statement that he "wasn't that stupid to give Krasavice his number". Instead, he asked about it in the production environment and then wrote to her on Whatsapp. The 26-year-old also shows these messages, which are believed to have been written by Bohlen, in her video. "I'm more real than you with my plastic body," she says confidently.
Dieter Bohlen was nice to her because she had a lot of number 1 hits, and that's exactly what he wanted. "People just want to know how contemptuous you are and that you're a liar," she concludes in her video. It remains to be seen whether Bohlen will react to the allegations or whether the viewers will have to wait for a reaction during the DSDS live shows.
Source: Stern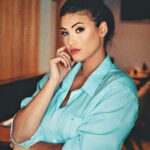 I am an author and journalist who has worked in the entertainment industry for over a decade. I currently work as a news editor at a major news website, and my focus is on covering the latest trends in entertainment. I also write occasional pieces for other outlets, and have authored two books about the entertainment industry.