Sebastian Basualdo: There is a change that places it in another place. In "All children lie" it is the look of an adult that makes the children come out of the novel from the world of the game, from fiction. As Lautaro, the protagonist, says, as he runs away, leaving childhood behind in one leap. I don't know if he hastened the end of childhood, the truth is that today's boys and girls, in the cities, have become, above all, spectators of other people's experiences. This is due to the fact that in the digital world the fundamental thing turns out to be a spectator of what another lives. Before, conversely, the boys built their playful universe, their own game, they developed experiences playing with others not with a screen. I think that this enabled a different way of accessing knowledge. Lautaro, 9, Speedy, 10, and Roitter, 12, make a police series their own that they watch on television, change it, imitate it, act it out, make a revolver with their fingers, go hunting ghosts with walkie-tallkies of plastic. They play by talking to you as in the series they are watching, with the neutral language of television, pairing to build their own adventure. With the new technologies, children enter into another form of play, at a level of information that many times cannot be controlled, even if they wanted to. They see things that perhaps they shouldn't see. At that level of so much information, it is possible that the playful universe and innocence are reduced.
Q.: Why does your novel take place in the 80s, the years of Menem, Italpark, Pumpernik and the playmobils?
SB: A Jurassic world, which no longer exists, where not all houses had a telephone, where the television had a few channels. This series of novels has become a saga to some extent autobiographical, and in the 80s my childhood passed. I wanted to rescue that world I knew. Not from the idealization of nostalgia but to show how the world worked at that time, at that stage the world was a child, seen from today at times it seems that they are talking about prehistory.
Q .: "All children lie" return to your novel "When I saw you fall" where Lautaro, at 15 years old, has a fighter from the Malvinas as a model.
SB: When you write you always have things to say and tell. "All children lie", which is a story in itself, can be seen as a prequel part of a project that describes the world of Lautaro. Lautaro's admiration for the Malvinas fighter, from the previous novel, is that he is Cora's partner, his mother, shows Lautaro's need for a father, something fundamental for his development. That relationship allows me to show where the sensitivity that Lautaro already had for the game, emotions, courage comes from. He felt that he wanted to tell the life of a boy who is alone, without a father and his mother works, and clings to his friends in the neighborhood.
Q.: Does Roitter, the oldest one, who invents horror and police stories, plays the father of the other boys?
SB: It is located in the place of experience and admiration, but not in that of the father, which is a place that the mother empowers. The relationship with the father is always traversed by life experience, by accumulated memory. The word father takes me to an institution, to an embassy of authority, to Kafka's "Letter to the Father". In my neighborhood they talked about "the old man" or dad. The old man was the voice of experience, the one who points out what is desirable, to earn money, to be famous. Today it seems that the boys can do without the vital experience of the father in the transfer of knowledge because they can find them among the peers that he sees on the cell phone or on Google.
Q.: How did Lautaro's father, Roberto Nogán, "the Bulldog", someone almost absent, emerge?
SB: It comes from my experiences. I didn't know who my father was and I made it up to support myself. I never knew my father's friends, I didn't know where he lived, some outings, a letter from afar. So, at some point, when you try to recover the image of him, you don't know where you are confusing reality with fantasy. Thinking about everything that happened made the stories I'm telling appear to me.
Q.: Why do you say that "all children lie"?
SB: Because they want to continue maintaining innocence. It's a kind of resistance to breaking that as if they instinctively know it's the most sacred thing they have. This is not a theoretical, sociological or anthropological axiom, but refers to lies as fiction, as a game. The game is a lie for the adult's gaze, not for the boy. In Lautaro, the game is his way of accessing knowledge, fantasy, love, sexuality. When Lautaro is exploring his body, the adult look tells him that it shouldn't be done, and the kid doesn't understand why it's wrong.
Q.: What are you up to now?
SB: In the third part of this literary project, which will close with the novel "Que te arrepentientes", which will deal with El Bulldog, Nogán, the father of Lautaro, the protagonist of the trilogy. What does a man do when he doesn't know what his father is like? He makes it up. This invention, necessary for the construction of masculinity, will be the central axis of the novel after the death of El Bulldog. Now the one he narrates is bigger, he is a man.
Source: Ambito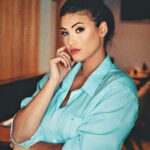 I am an author and journalist who has worked in the entertainment industry for over a decade. I currently work as a news editor at a major news website, and my focus is on covering the latest trends in entertainment. I also write occasional pieces for other outlets, and have authored two books about the entertainment industry.