In an interview, Jasmin Wagner and Jochen Schropp explain what the viewers in their new Sat.1 afternoon show "Volles Haus!" expected.
Jasmin Wagner (42) and Jochen Schropp (44) will mix up the Sat.1 afternoon program from the end of February. In their new live show "Full House!" (from Monday, February 27, in Sat.1) the duo invites the viewers and various guests into their "living room" every day between 4 p.m. and 7 p.m. and discusses current events. In an interview with the news agency spot on news, the two reveal what the audience can expect from the new format and why they harmonize particularly well as a duo. In addition, the presenter and actor and the presenter and singer tell how their everyday life will change as a result of the daily broadcast.
Why did you feel like hosting an afternoon show?

Jochen Schropp: I think it's great to start the evening together with the audience – also because I don't like getting up early and was therefore happy that our show started in the afternoon (laughs).
Jasmin Wagner: Above all, I think it's great that it's a live show. We are preparing ourselves, but we will certainly be surprised by the show. Things just happen and nobody says, 'Can we do this again? Oh crap, we planned it differently.' I find it wonderful to work from the moment.
Schropp: That's right, we can do what we want and nobody can stop us (laughs). I love live TV, it's just a whole different energy.
Wagner: We all love and always wish for spontaneity and authentic moments on TV. It will be in "Full House!" give – we have virtually no other choice! (laughs).
Don't you have any jitters about something going wrong?

Schrop: No. We have each other and we can rely on each other. And even if: Making mistakes is human. Most of the time it's exactly what the audience would like to see when something goes wrong. I always loved that on "Sat.1-Frühstücksfernsehen". It's well known that things sometimes get a bit crazier or that we, as moderators, simply think about spontaneous actions. This is of course the case with "Full House!" insofar as we have an entire house with a wide variety of rooms and themes. I think this is going to be great fun.
Wagner: I don't have any jitters either, at least not anymore. When I was 20, I still thought it was desirable to do everything as correctly and as perfectly as possible. Now I know that there is no such thing as perfect. The more relaxed you are about the fact that mistakes are allowed to happen or that things surprise you in the course of the process, the better.
The time span from 4 p.m. to 7 p.m. is very long…

Wagner: That doesn't worry me. Jochen and I don't talk for three hours at a time! We can take a deep breath too. (laughs) Because Britt Hagedorn also moves to "Volles Haus!" with "Britt – Der Talk". and we have our own docu-soaps that deal with big and small life dreams, for example. And then there's our very own VIP show!
Schropp: Exactly, that's "Bunte – live". We are particularly proud that we have experts from "Bunte" in "Full House!" who know their way around the celebrity world and share their stories with us before anyone else. What we mean in "Full House!" will not do is gossip. Jasmin and I are public figures ourselves and would not want us to be blasphemed – but of course we want to know what is currently happening with the stars and the royals.
Wagner: In this respect, I will be better informed about my fellow celebrities than I have ever been in my life (laughs).
How do you make yourself comfortable in your new TV home?

Schropp: We've made ourselves comfortable and have already spent about two weeks in our house. The first thing I noticed when I walked in was that parts of the house have exactly the same blue wall color as I have in my living room. The rooms are also incredibly beautifully furnished. Maybe we'll bring something nice with us.
Wagner: Or we steal something, a few things would go very well with my home (laughs). I also have a light blue living room and blue elements in the kitchen. In this respect, I felt very comfortable in the "full house". It's a different working atmosphere and I think the more attuned we are, the more it will feel like a second home. Maybe I'll manage to move in there secretly if the way home is too far for me.
What makes you the perfect duo?

Wagner: We're similar in size, optically it fits (laughs). When you audition for a show like that, you want what happened automatically with us to happen. We enjoy working together, we have respect, we are both armed with a lot of experience. And then there's what couples have when they look at each other and know what the other means. We have that too. We can "feel" each other quite well.
Schropp: We weren't cast together and actually only met for the first time in "Full House" and had never really spent any time together. It worked straight away. I know that I can rely on Jasmin as a colleague. I think she has an incredibly good sense of humor and is simply very authentic. She said a few things that colleagues wouldn't just say to protect a perfect image. That makes her likeable and absolutely approachable.
They're used to live broadcasts from Celebrity Big Brother. With Ms. Wagner it is more like a return to the moderation roots. Do you have any tips for them?

Schropp: I find it difficult to give any tips if they are not asked. In our first week of rehearsals in "Volles Haus!" I was of course the one who had already had this experience and then we exchanged ideas. But Jasmin just brings a lot with her. And I'm sure that I can learn a lot from her. We have a very different moderation style. I usually proceed in a very structured manner and have a clear process ahead of me. Jasmin is much more spontaneous there, we complement each other well.
Wagner: I mainly look at Jochen during the preparation of the show. He's in the game a lot more, I have to reactivate things again. For example, the broadcast schedules with all the abbreviations were like Chinese for me at first, so he totally helped me through that. It's very nice that I can rely on him and that we can groove together.
What do you want to say to the audience in the afternoon?

Schropp: We don't just want to inform people about the most important things of the day. What is close to my heart is that we provide a reliable home every day at 4 p.m. We are in a good mood and we want to pass on our good mood and carry it into the day. If a serious topic comes up, we will of course treat it with respect. But overall it's just going to be a fun time. Even as a student, I used to enjoy watching the talk shows or magazines in the afternoon and I'm still a TV kid to this day. For many people, especially those who are alone or who may not have the luxury of being constantly on the move, it is simply a very important time. And I hope that we can make their time as enjoyable as possible.
Wagner: By 4 p.m. we've all done something, we might come home, have taken care of the children and the dogs and just need a quick coffee. We'd like to be friendly with you.
How does everyday life change for you when the show starts?

Wagner: Neither of us are from Cologne, so we will commute a lot. We are the ones who open the show for the first few weeks, but we will have new members, the flat share will expand with a great team. So a rhythm will settle down and there will be phases in which I pack up everything and move to Cologne. I also have connections there through dear friends.
Schropp: And we will make Cologne unsafe together. The last time we saw each other, Jasmin was still heavily pregnant and now we have a few things to work through. I think we both know commuting and traveling well. "Full house!" is a special project because we will always come back. I can often stay in an acquaintance's apartment and probably leave a little something there. And my husband will certainly come to Cologne from Berlin. At the beginning I thought about whether I wanted to do it because I know from "breakfast television" what it's like when the whole year is clocked. On the other hand, it is also the dream of every self-employed artist to have a chance to earn money with a job that is fun.
Ms. Wagner, you also have the role of mother. How do you reconcile everything?

Wagner: My mother said from the start that she would come with me and that is of course a great gift. My daughter is a pretty cool little fluffy cheek who will feel at home with Grandma there. I also see it as an opportunity to spend a lot of time with my mother again and I'm looking forward to sharing a flat together after work. Of course I don't know yet how all this will work, but I want to try. And I know that my daughter is cared for by the family, that was important to me when she was still so small. The editors reacted very well and said that they would give me a lot of space. From a mother's perspective, this is of course a great mom's job and a very child-friendly workplace. When everything has settled down, it's about a few hours of the day. My friends don't all have the luxury of having that much time of their own when they want to work.
Source: Stern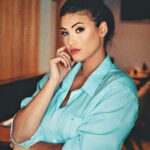 I am an author and journalist who has worked in the entertainment industry for over a decade. I currently work as a news editor at a major news website, and my focus is on covering the latest trends in entertainment. I also write occasional pieces for other outlets, and have authored two books about the entertainment industry.