In his biography and the Netflix documentary about the break with royalty, Prince Harry dished out a lot to his family. Now he seems to get the receipt for it.
Expulsion from paradise: British Prince Harry (38) and his wife Duchess Meghan (41) have to vacate their Frogmore Cottage property on the grounds of Windsor Castle. A spokesman for the couple confirmed this to the British news agency PA. Accordingly, the request to move came shortly after the publication of Prince Harry's biography "Spare" (German: "Reserve") on January 10th.
In the book, Harry reveals countless details from the private life of the royals and raises serious allegations against his brother William (40) and his stepmother Camilla (75). Harry said William pushed him to the ground during arguments, ignored him since he was a child and always saw himself in competition with him. He accused Camilla of secretly leaking private information about himself and other family members to the press in order to present himself in a better light.
King Charles III is said to have deprived them of the property
British media had previously reported that his father, King Charles III. (74) took away the property in Windsor from the two out of anger about the book – but without naming a source. Only recently there had been speculation that a reconciliation could soon take place. After all, Charles is to be crowned king in just over two months. It is feared that the celebrations on May 6 could otherwise be overshadowed by the family quarrel.
It was initially unclear whether the couple would attend the coronation. The "Telegraph" had reported that the period for eviction expires after the ceremony. But participation now seems difficult to imagine given the rift.
Harry and Meghan had received Frogmore Cottage, which according to the broadcaster Sky News has ten bedrooms, as their residence after their wedding in 2018 from the late Queen Elizabeth II. It underwent a £2.4million (€2.7million) refurbishment, initially at taxpayer expense. The couple later repaid the amount.
After they broke away from the inner circle of the royal family two years later in a dispute, they rarely stayed in Windsor. The couple now lives in the US state of California with their two children, Archie (3) and Lilibet (1). Most recently, they are said to have stayed at Frogmore Cottage after the Queen's death last September.
Dispute over entitlement to police protection for Harry and Meghan
Harry is always very concerned for the safety of his family. It should therefore not be easy for him to find accommodation with a similarly high security standard. He and his family can no longer claim police protection. Harry is currently in a legal battle with the UK Home Office over whether he can claim UK police protection for a fee.
According to media reports, Charles is said to have offered the property to his younger brother Prince Andrew (63). For cost reasons, he has to leave his much larger domicile, Royal Lodge, which is also on the grounds of Windsor Castle.
The fact that Andrew, of all people, who has fallen out of favor because of his involvement in an abuse scandal, is to move into their former home is, according to the "Telegraph" Harry and Meghan, a thorn in the side and should make it even more difficult to get closer.
Harry had told the Telegraph in mid-January that he wanted to have a "reasonable" conversation with his father and brother. But he also demanded that they "take responsibility" and apologize to his wife Meghan, who he sees as the victim of a media campaign backed by the palace and family members.
In an interview with the Telegraph, Harry admitted that he smashed a lot of china with his publications. It is possible that Charles and William could not forgive him for the indiscretions. But he is ready to forgive his father and brother everything, according to the fifth in line to the British throne.
Source: Stern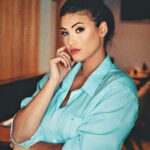 I am an author and journalist who has worked in the entertainment industry for over a decade. I currently work as a news editor at a major news website, and my focus is on covering the latest trends in entertainment. I also write occasional pieces for other outlets, and have authored two books about the entertainment industry.