After the high-profile cases of redacted reissues of the works of Roald Dahl and Ian Fleming, the debate over this new division of publishers heated up, especially in the Anglo-Saxon world. At first they only dealt with the children's genre, but after #MeToo and the blm they spread.

The subject of heated debate, professionals who review manuscripts to detect stereotypes or expressions today considered politically incorrect are known as "sensitivity readers." The "sensitivity readers", such their name in English, have been part of the Anglo-Saxon publishing industry for years, particularly in children's literature. But with movements against sexual violence, like #MeToo, or against racism, like Black Lives Matter (BLM), they became more active across all genres. And not everyone is happy.
Sensitive readers have just been ridiculed after the announcement that books by Roald Dahl or Ian Fleming, author of the James Bond novels, have been or will be reissued with changes to suit contemporary cultural perceptions. In Dahl's work, the characters are no longer "fat" or "crazy"; in Fleming's, descriptions of black characters deemed racist are removed.
The accusations of censorship from those who say they fear an aseptic literature that sweetens the past and the present were not long in coming. "People say that but I don't think they understand the process," Patrice Williams Marks, a Los Angeles-based sensitivity reader, told reporters. "If you are writing about a population or a community that you are not familiar with and you want it to be authentic, then you are looking for a sensitive reader who is part of that community and asking for their opinion," she explains. On the other hand, the authors "are not obliged to accept the proposed changes," adds Lola Isabel González, another proofreader also based in Los Angeles. Who are these sensitivity readers? In general, these are independent publishers, often paid by word or number of pages, and with strict confidentiality clauses, by authors or publishers concerned about the accuracy of their texts. Or, as critics charge, to avoid the consequences of a potential social media storm in the event of a misstep. Manuscript reviewers offer various specializations based on their background, religion, or experience: "child of immigrants," "bisexual," "autistic," "hijab wearer," "deaf," "expert in mainland Chinese culture, and in Hong Kong."
For the British author Kate Clanchy, "there are good reasons to regulate children's reading: it is fundamental and formative." Not so for adults, who "can leave a book if it bothers them," argued last year this writer, who was at the center of a controversy when her memoirs were accused of racist and discriminatory. The American Lionel Shriver, author of the novel made into a film "We have to talk about Kevin" (2003), is one of the most critical voices against sensitive readers, whom she calls "sensitivity police". "Constant anxiety at the thought of hurting other people's feelings inhibits spontaneity and hampers literary creativity," he told the British newspaper The Guardian in 2017. Publishers "are doing a very good job trying to ruin our books and our enjoy as readers," Shriver complained on Britain's ultra-conservative channel GB News last month.
In France, a country very resistant to revisions of texts, the essayist Raphael Enthoven in 2020 denounced these "modern censors" as "the vanguard of the plague of identity".
But in the name of authenticity and anti-racism, there are writers who are in favor of this revision. Among them is the American Adele Holmes, who turned to a sensitive reader for her first book, "Winter's Reckoning" (2022). It was she who identified "aspects related to white privilege" and, more prosaically, suggested using the word "curly" for the character of a black woman described as having "silky" hair, Holmes explained, who said that the reader of sensitivity helped her "immensely." According to her, the criticism comes from those who feel "threatened" by the claims of minorities, in a publishing world known to be predominantly white.
For González, the fact that sensitive readers are a growing figure in the publishing world reflects the evolution of a part of society. "I don't think I would have been able to do this job professionally in any other decade," she said, appreciative that Generation Z (of those born in the late 1990s and early 2000s) is challenging social narratives. "Younger generations understand the importance of sensitivity review," unlike their elders, who might "have a harder time seeing it as progress," she said.
Source: Ambito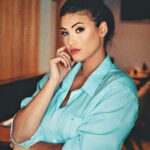 I am an author and journalist who has worked in the entertainment industry for over a decade. I currently work as a news editor at a major news website, and my focus is on covering the latest trends in entertainment. I also write occasional pieces for other outlets, and have authored two books about the entertainment industry.