"John Wick 4"the new installment of the action saga starring Keanu Reeves As an ex-hitman who is forced to return to the clandestine world he had abandoned, where he becomes the target of the criminal leadership, he arrived at movie theaters on Thursday with an explosive visual staging and looking to surpass the already established success of his predecessors.
"I know that any fan is going to enjoy it a lot and they are going to get a big surprise, but no matter how much I try to raise expectations, I will never be able to match what they feel when they see the movie, because they really were made here. things that took a big leap in every way," said the Chilean actor and martial artist in dialogue with Télam Marko Zarorone of the newcomers to the franchise created by Derek Kolstad and directed by Chad Stahelski.
It is that since his landing in 2014, the plot that follows john wick It became a phenomenon for the followers of the genre, until then something in decline between repeated formulas, unconventional narratives and the dominance of superheroes among the high-voltage productions that reached the big screen.
The first time he was seen on screen, the protagonist, still recovering after the death of his wife, lived in seclusion with the only company of a cute little dog that his partner had adopted before his death to help him endure the duel.
Unexpectedly, Wick reaches a real breaking point when a gang of Russian gangsters who had tried to intimidate him into taking his prized car break into his home one night, where they not only beat him badly but kill his pet and take his Mustang, unleashing his anger and his thirst for revenge.
From that moment on, the ex-assassin will return to the criminal environment from which he had left, staying at the Continental Hotel in NYa neutral ground for the underworld, from where he will carry out a series of counterattacks that, inevitably, put him under the magnifying glass of the most important criminal organizations around the world.
In this fourth film, Wick is getting closer to defeating the High Table that controls the clandestine underworld, but before doing so, he will face the powerful Marquis de Gramont (bill skarsgard), one of the most prominent members of the leadership, who boasts global alliances and the complicity of old friends -turned into enemies- of the protagonist.
The recognized Laurence Fishburne, Ian McShane and the recently deceased lance reddick They also return as part of the cast of "John Wick 4", which also features the participation of Donnie Yen, Hiroyuki Sanada, Shamier Anderson, Rina Sawayama, and Scott Adkins.
Next to them it says present Marko Zaror in charge of the role of Chidi, the right hand of the great antagonist of the film, in a new foray into the Hollywood industry after working hand in hand with the director robert rodriguez in "Machete Kills" (2013) and "Battle Angel: The Last Warrior" (2019).
The actor, who has been building his career since he starred in the first Chilean martial arts feature film, "Kiltro" (2006), commented that when he saw the first "John Wick" felt "a huge impact": "I clearly saw all the following ones and was like 'wow, I can't wait to be in one of these movies. I'm very honored to have collaborated, as a fan of the genre it's hard to express how happy I am to have been a part of something like this' "He added about his inclusion in the saga.
In addition, he considered that a good part of the success of the franchise is due to the work of Stahelskia director who "has a lot of knowledge about martial arts and understands how to show it on the big screen", achieving something "very unique".
"His vision is that of someone who knows the genre from its foundations, which is why he invites martial artists and prepared actors who bring a great difference in the game with the scenes. It is complex to carry something so choreographed, they almost seem like dance scenes at times , and his focus has always been to prepare the best sequences and not rely on digital effects as much," Zaror said.
Of course, the work of Keanu Reeves He was not left out of his praise: "It was incredible to meet him and see the delivery with which he works. He is very demanding, he likes everything to be perfect and repeats the shots twenty times if necessary, as if it were his first film. I saw scenes in which he was there, doing his stunts with the car, shooting, and maybe people see him in the movies and don't believe it, but no, the preparation he has is incredible and inspires to want to continue improving," he added.
And in relation to this fourth part, the actor commented that "as new characters with different objectives and stories were added, the world expands and grows around John Wick, all these murderers and these plots that begin to unfold."
"You can see how they outdid themselves with every movie, each time they accomplished more incredible things. Keanu himself said that this had been his toughest job in terms of physicality to date, and I can imagine because I was there and it was tough. For For me it was like a high performance competition, we prepared ourselves as an athlete prepares for a competition, to arrive at the highest level, to be able to perform and do a good job", he concluded.
Source: Ambito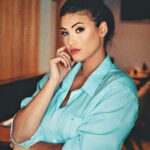 I am an author and journalist who has worked in the entertainment industry for over a decade. I currently work as a news editor at a major news website, and my focus is on covering the latest trends in entertainment. I also write occasional pieces for other outlets, and have authored two books about the entertainment industry.