It is a historic event: Charles and Camilla have been crowned king and queen – before the eyes of numerous prominent guests from all over the world. But there are also protests.
About eight months after his accession to the throne, Charles III. been crowned King of Britain. His wife Camilla was crowned queen. Archbishop of Canterbury Justin Welby donned the Edwardian Crown and Queen Mary's Crown to both of them at a ceremony in London's Westminster Abbey. As part of the ceremony, 74-year-old Charles was anointed with holy oil, and his eldest son, heir to the throne Prince William, dressed his father in royal robes.
Prominent guests from all over the world came to London for the solemn service. Among them were royalty such as Willem-Alexander and Máxima of the Netherlands and Felipe and Letizia of Spain. King Carl Gustaf and his daughter Victoria came from Sweden. Crown Prince Frederik and Crown Princess Mary came for the Danish royal family, Haakon and Mette-Marit traveled for the Norwegians. Charles' younger son Prince Harry attended the ceremony alone, while his wife Meghan stayed in the United States with their two children.
The children of heir to the throne William and Princess Kate were once again delighted. Charlotte and Louis sat in the front row with their parents during the service. Nine-year-old Prince George had a special role: he and three other boys served as his grandfather Charles' page of honour.
Celebrity guests
Among the political guests were French President Emmanuel Macron, European Commission President Ursula von der Leyen, Canadian Prime Minister Justin Trudeau, former British Prime Ministers Boris Johnson and Tony Blair, US First Lady Jill Biden and the wife of Ukrainian President Volodymyr Zelenskyy, Olena Selenska. Pop stars like Katy Perry and Lionel Richie also attended the ceremony. Both should also be on stage at the coronation concert on Sunday evening.
Charles has been king since his mother's death on September 8, 2022. The coronation merely symbolizes his assumption of office. It is the first coronation of a British monarch in 70 and the first of a king in 86 years. Since there is no such coronation ritual in the royal families of other countries, the celebration was a unique event for most of the guests.
The length of the coronation procession for King Charles III. is only about a quarter of the distance that his mother, Queen Elizabeth II, traveled 70 years ago. The slow 1.42-mile (2.3-kilometre) journey from Westminster Abbey to Buckingham Palace takes exactly 33 minutes.
demonstrations and arrests
The significantly shortened procession is intended to reflect the slimming down of the monarchy that Charles was aiming for. Nevertheless, opponents of the monarchy used the day for protest. The arrests were immediately criticized by Human Rights Watch. "This is something you would expect in Moscow, but not in London," Yasmine Ahmed, head of the human rights organization's UK branch, said in a statement on Saturday. "Peaceful protests allow people to hold those in power accountable. It's something the UK government seems increasingly reluctant to do."
Civil rights activist Peter Tatchell tweeted that the police had erected huge barriers to cover banners critical of the monarchy. "The right to peaceful protest suppressed. Shame!" The London police had announced a rigorous crackdown on people who they believed wanted to disrupt the coronation.
Tens of thousands of fans in central London
But tens of thousands of fans of the royal family and onlookers also flocked to the city center. If you wanted a good view of the procession, you had to secure your spot on The Mall early in the morning. A woman from the back called out: "Would it be very bold to push your way forward? Or wouldn't that be in line with British values?"
The London families Salisbury and Savident – well equipped with picnic chairs and rain protection and home-made Coronation Quiche – made themselves comfortable a few meters away and treated themselves to the first champagne shortly before 8 a.m. in the morning. Two friends – wrapped up in Union Jacks from top to bottom – could not shock the announced rain. "It's a British public holiday, of course it's going to rain!"
Source: Stern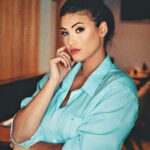 I am an author and journalist who has worked in the entertainment industry for over a decade. I currently work as a news editor at a major news website, and my focus is on covering the latest trends in entertainment. I also write occasional pieces for other outlets, and have authored two books about the entertainment industry.