The actor Guido Gorgattihistoric comedian with a long career in television, cinema, theater and radio, died at the age of 103, reported the Association of Argentine Actors.
"It is with great sadness that we bid farewell to our longest-serving affiliate, actor Guido Gorgatti, who has passed away at the age of 103. His career includes works in theater, cinema, TV, advertising and radio, standing out as a comedian and humorist. Our condolences to his loved ones ", says the text issued by the institution, which does not specify the circumstances of his death.
Despite being born in Italy, Gorgatti composed the most authentic and funny "Galicians" on radio, TV and cinema; although for reasons of age he had been retired from acting since the mid-2000s, when he played an 80-year-old waiter, as part of the stable cast of "Un cortado, historias de café", a program with a rotating cast that was broadcast on Public TV from a restaurant in the Palermo neighborhood.
He was born in Crespino, in the northeast of Italy when that country was still a Kingdom, on December 5, 1919, and arrived in Argentina ten years later with his family. Even with little knowledge of the language, he entered the Lavardén Children's Theater Institute, where he was a student of Alfonsina Storni, which made him the last living person to have met the great poet.
Always funny, with a slight accent that marked his origins, he quickly entered the radio and paraded through various stations where he participated in the programs "La pandilla Marilyn", "Ronda policía", "El relámpago" and "Calle Corrientes". Among other remembered successes, he was part of the cast of "The Adventures of Carlos Norton" on Radio Stentor, starring Juan Carlos Croharé.
In addition to acting as a radio technician and musician; Although he never reached stardom, he was an irreplaceable supporting actor: this was demonstrated in "La nut", which earned him a Martín Fierro in 1970, but also when acting in the Astral theater with Tincho Zabala and Blanquita Amaro; with Paulina Singerman in "Will my husband be a virgin?"; with Miriam Sucre in "Canallita pero simpático" and with Niní Marshall in "La señora Barba Azul".
Few remember him, but his first appearance in the cinema was in "Pibelandia" (1935), by Augusto César Vatteone, with Elsa O'Connor and Marcelo Ruggero, which was destroyed in a fire, so he had to wait until 1950 to appear. in "Una noche en El Relámpago", based on the radio hit by Miguel Coronato Paz.
Typecast in comic and picaresque roles, he took part in "Bárbara átómica" (1952), by Julio Saraceni, with Juan Carlos Thorry, Blanquita Amaro and Adolfo Stray; "Romeo y Julita" (1953), by Enrique Carreras, with Alfredo Barbieri and Amelita Vargas; and the collective "We are all tenants" (1954), with Tito Climent and Analía Gadé.
Among other films, his talent was noticed in "An Italian in Argentina" (1964), by Dino Risi, with Vittorio Gassman, Amedeo Nazzari and Amparito Castro; "The Shrews Have Fun" (1983), from Carreras, with Alberto Olmedo and Jorge Porcel; "Mingo and Aníbal against the ghosts" (1985), from Carreras, with Juan Carlos Altavista and Juan Carlos Calabró; "Rambito y Rambón primera misión" (1986), also by Carreras, with Olmedo and Porcel; and "Crime of Corruption" (1991), with Rodolfo Ranni, Mercedes Carreras and Mario Pasik.
On TV he worked with figures such as Luis Sandrini, Jorge Barreiro, Nelly Láinez, Amelia Bence, Carmen Vallejo, Vicente Rubino, Tino Pascali, Tita Merello, Gogó Andreu, Tincho Zabala, Tono Andreu, Claudio García Satur, Rafael Carret, Julio López, María Valenzuela and Dringue Faríasas well as other celebrities.
It was in remembered cycles like "Rolando Rivas, taxi driver"; "A Woman in the Crowd"with Norma Aleandro; "Like hot bread"; "Rich and famous"with Natalia Oreiro; "Final time", "I will resist"with Pablo Echarri; "Those on the corner"with Ana Maria Picchi and Mosquito Sancinetto; "Someone who loves me"with Andrea Del Boca and Osvaldo Laport; and in the documentary "The Tabaris, full of stars"in which he gave his testimony when he was already 93 years old.
In 2009 he presented at the Argentine Association of Actors his autobiographical book "Amanece con el espectaculo", in dialogue with Elsie JankelevichHe received the "Order of the Mailbox" from the Manoblanca Museum, and the following year he was named Outstanding Personality of Argentine Culture in the Golden Hall of the Legislature.
His last years, away from acting, allowed him to remember his arrival in Argentina, his life in a tenement on Uspallata street at 1700, Barracas neighborhood, where his family lived with prostitutes, their exploiters and also working people, more his contact with that radio device that opened an unknown and wonderful world to him, which finally marked his destiny.
Source: Ambito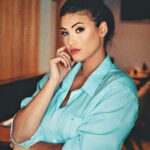 I am an author and journalist who has worked in the entertainment industry for over a decade. I currently work as a news editor at a major news website, and my focus is on covering the latest trends in entertainment. I also write occasional pieces for other outlets, and have authored two books about the entertainment industry.