Taylor Swift and The 1975 frontman Matty Healy appear to be on a date in new photos from New York. While Swift's fans usually celebrate all of her accomplishments, they're skeptical about her potential new partner.
There are probably few fan groups that react more passionately to news from their idol. Taylor Swift's fans call themselves "Swifties" and have been known to defend the singer from criticism. They are just as passionate when the 33-year-old has a new partner at her side.
The singer is reportedly dating The 1975 frontman Matty Healy after splitting from actor Joe Alwyn. Photos show the two holding hands on an alleged date in New York. The relationship has not yet been confirmed, but it is known that Swift and Healy have been friends for several years.
Taylor Swift and Matty Healy: The singer's problematic statements

But the "Swifties" are usually the loudest cheerleaders who immediately pull out the pom poms, if Swift is mentioned, it's a little different this time. Because Healy has always attracted negative attention in the past. It wasn't until January that a clip of Healy circulated online, in which he showed the Hitler salute on stage and chanted: "Thank you, Kanye, very cool." Kanye West has recently expressed anti-Semitism on a regular basis and made headlines with scandals. That same month, Healy said on stage, "I don't think it's racist to say…" but before he could finish his sentence, his band began playing. Healy reacted visibly irritated and angry at his colleagues on the instruments.
In 2020, Healy caused a stir with a tweet about the Black Lives Matter movement in which he appeared to be promoting one of his songs. Also on Twitter a few years ago, he equated Islam with the terrorist organization Isis. He was recently forced to apologize to rapper Ice Spice after he and two podcast hosts mocked her origins. He received criticism for this from musicians, among others, who tweeted: "I love listening to three privileged white guys sitting around objectifying a young black artist who is going through the roof."
Hitler salute on stage

However, the Briton has no problem with his sometimes bad image. He is more critical of Generation Z. "The problem with Generation Z is that they have created this moral standard that they can't even live up to! They only realize that when they are in their mid-20s," he said in an interview with "NME". "If you're an idealistic 18 or 19-year-old, sure! But you're going to make mistakes, you're going to hurt people, you're going to do things that some people see as bad. It's that standard I'm trying to break. I'm just a guy, just like you. No one's kidding," he said.
Unlike him, Taylor Swift is considered a clean woman. It seems all the more difficult for "Swifties" to associate them with a man like Healy.
Sources: / /
+++ Read also +++
After Nazi rumours: why it's so important that Taylor Swift finally shows her colors
Source: Stern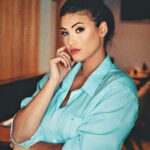 I am an author and journalist who has worked in the entertainment industry for over a decade. I currently work as a news editor at a major news website, and my focus is on covering the latest trends in entertainment. I also write occasional pieces for other outlets, and have authored two books about the entertainment industry.