He is on the trail of animals in the wild and tries to get them as close to the camera as possible. This is not always entirely safe.
Animal filmmaker Andreas Kieling spoke about a bear attack. "The bear is not to blame, so to speak," he said in a video on Facebook. He had previously made it public on Sunday that he had been attacked and injured by a bear in the Carpathians.
"Actually, I speak for the bear. The bear can't do anything that happened. I'm the Intruder, I've invaded its habitat, deep into the wilderness, where normally no normal people go, not even hikers." , said the 63-year-old in the video, in which he can be seen with his hand bandaged and bloody wounds to his head. The bear was above him and bit his left hand, among other things. A surgeon took good care of him.
He doesn't see his job as particularly dangerous
He actually wanted to film birds in the Carpathians, but the accident happened a week ago. Where exactly the attack took place is not clear from the Facebook entries. The Carpathians extend in a wide arc from central to eastern to south-eastern Europe. Many brown bears live there. An estimated 5,000 to 6,000 brown bears live in the Romanian Carpathians alone. Especially the mother bears with their cubs often approach farms, outskirts of towns and camping tourists. They are also very often spotted by motorists on country roads. The male alpha bears live more secluded lives in the higher mountainous areas.
He is now back in Germany, said Kieling, and thanked him for the recovery wishes. He does not consider his job to be particularly dangerous, it is only the fifth serious accident in 32 years of professional animal filming. Firefighters and police officers are exposed to much greater dangers on a weekly basis.
He doesn't know why the attack happened. Maybe it was a bear with cubs, maybe there was a dead animal lying in the bushes or it had something to do with hormones during the mating season, he suspected. "Bears are not in this world to kill us humans or to stalk us. (…) For bears we are something like other big predators, like a wolf, a lynx, a hyena, a tiger, a leopard. As long as you don't get into a conflict situation, for example claiming similar food sources for yourself, nothing really happens. Bears are usually shy and always avoid us," he said.
Video report on Facebook Homepage Andreas Kieling Andreas Kieling on Facebook Report at "Bild"
Source: Stern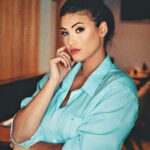 I am an author and journalist who has worked in the entertainment industry for over a decade. I currently work as a news editor at a major news website, and my focus is on covering the latest trends in entertainment. I also write occasional pieces for other outlets, and have authored two books about the entertainment industry.