Lucy Hellenbrecht was one of the first trans women to compete on "GNTM". For a project, she now shares photos of children that have never been shown.
"GNTM" was the starting point of her career for actress and model Lucy Hellenbrecht (24). In 2020 she competed in "Germany's next top model" and took 16th place. "I've been working in my dream job since then," she says, and also reveals that the gender reassignment surgeries have "made her life so carefree". With pictures from the past, it's as if "I'm looking at another person".
The "Saved Memories" project has brought her back to light in a new way. The AI ​​is fed with original recordings and trained on how the person looks today using current photos. Then the AI ​​reinterprets the images, reducing and adjusting gendered traits while retaining the details that preserve the authenticity of the moment. In an interview, Lucy Hellenbrecht explains what the processed images trigger in her.
What goes through your mind today when you see pictures of yourself from the past? What feelings do they trigger in you?

Lucy Hellenbrecht: I've always been able to look at my pictures in a differentiated and sober manner. It is as if I am looking at another person who is not me and with whom I actually have no connection. I'm often even proud when I think about how I looked then and how I look now.
And in contrast, how do the images revised by the AI ​​appear to you now?

Hellenbrecht: The edited images made me feel like my past made more sense. I look at these pictures and for the first time I can really imagine that if I had been born a biological woman, this little girl would really have become the woman I am today.
You were one of the first trans women on "GNTM" in 2020. What has changed in your life since then?

Hellenbrecht: "GNTM" was the starting point of my career. My whole life was basically changed because I was in the public eye overnight. I've been working in my dream job ever since and thoroughly enjoying my life. My life is so varied and creative and I experience things every day that others dream of and I am very grateful for that.
Was taking part in the casting show a challenge for you back then?

Hellenbrecht: Of course that was a challenge. "GNTM" is a huge challenge. It's really tough competition, which I think you can only do if you really want to. Thank God that was the case for me and I enjoyed my time there.
How has gender reassignment surgery changed you?

Hellenbrecht: The operations were really what I needed to be really happy. Not every trans person is like that, but I knew right from the start of my transition that I was going to do gender reassignment. I just didn't feel comfortable in my old body at all and the surgeries made my life so carefree. I don't even think about being trans every day anymore because I just live as a woman.
Is your transition complete or do you have more surgeries ahead of you?

Hellenbrecht: No further operations are planned.
Since then you've been seen more often on TV. Do you feel comfortable in front of the TV camera?

Hellenbrecht: I love being in front of the camera. Even then, I never had problems giving lectures in front of the class or anything like that. I love to stand out, to present myself and, yes, to be the center of attention. I really found my dream job.
You are now in demand as an expert or ambassador for LGBTQIA+ issues. What does this role mean to you?

Hellenbrecht: First of all, thank you for apparently seeing it that way. I learned the phrase from my father "If you want something to be done right, then do it yourself" and maybe that sounds arrogant, but I also believe in this role because I know that I can get my message across correctly and can reasonably carry to the outside. It gives me so much joie de vivre to know that I help other people and I notice that every day because people even write to me.
What are your current plans and goals as a member of the LGBTQIA+ community?

Hellenbrecht: I am currently planning a Germany-wide project in which I would like to go to schools and give lectures. About social media, cyberbullying, exclusion, discrimination and other topics. I had already had a trial run at my school at the time and the feedback was overwhelmingly positive and an incredible number of people were interested in my transition and how I deal with the hate that goes with it.
Do you currently have someone at your side who particularly supports you in your project?

Hellenbrecht: I always have my father, my sister and my friends behind me, who give me constant support. I don't have a partner at the moment.
You are completely open about your trans identity, including on social media. Is it easier for you today than it used to be?

Hellenbrecht: I would say it's easier for me because I've had more experience and practice in my job over the years and now I know better how to deal with certain issues. Yes, you also learn that from mistakes you've made, but I can still laugh about them today.
May 17th is the International Day Against Homophobia, Biphobia, Interphobia and Transphobia. How important are actions like this to you?

Hellenbrecht: I hope you understand what I mean when I say that I find this day incredibly, incredibly important and at the same time it's sad that a day like this is still needed. I will never understand how hatred can be stirred up against other people and I wish such a day wasn't necessary, but it is.
Where do you still see major problems in this area?

Hellenbrecht: A no-go is definitely the outdated thinking that you would always look at trans people that they are trans. A lot of people still have the image that when they walk across the street they see men, women and trans people and that's just not the case. So many people are always so incredibly surprised when I come out because you just don't see it. Another no-go is that people think that we all have the same path, think about things in the same way and that fundamentally we are not all individuals.
Who is your biggest role model in these areas?

Hellenbrecht: I can definitely say that I probably wouldn't have made my outing like this if I hadn't watched Jolina Mennen's videos back then and she even knows that because we once worked together for an event.
Source: Stern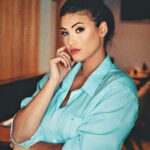 I am an author and journalist who has worked in the entertainment industry for over a decade. I currently work as a news editor at a major news website, and my focus is on covering the latest trends in entertainment. I also write occasional pieces for other outlets, and have authored two books about the entertainment industry.