The actor, protégé and lover of Luchino Visconti (with whom he made his best films), was 78 years old.

Many will remember him when he was young and known by Vogue magazine as the "sexiest man on the planet", or as the gay icon specializing in bisexual characters at a time when androgyny was just beginning to insinuate itself in European cinema. But it would only be enough to mention two films from his extensive filmography, "The Fall of the Gods" and "Family Group", both directed by his discoverer and companion, the great Luchino Visconti, to understand that Helmut Berger played a very important role in the European cinema of the late 60s and early 70s.
Berger died yesterday in Salzburg, Austria, at the age of 78 without his agent clarifying the cause of death. The son of a family of hoteliers in the Swiss Alps, Berger learned several languages ​​and dreamed of being an international actor. In 1964, in his twenties, he met a man who was almost 40 years older than him, Luchino Visconti, and the young man understood that his dream could come true. She soon made her debut under the direction of what was not only her lover, but also a kind of adoptive father, in the 1967 episodic film "Le Streghe" ("The Witches") with Silvana Mangano and Annie Girardot, in which Berger appeared in a small role in the Visconti episode, playing a young hotel clerk. But Berger's true revelation with Visconti came with a daring masterpiece on the origins of Nazism, "The Fall of the Gods" (1969) where, despite the leading roles of Dirk Bogarde and Ingrid Thulin, the one who stood out was Berger crossdressed for a decadent variety act that was ahead of Liza Minnelli's "Cabaret" from Bob Fosse's film, and was depraved enough to rape his own mother, an acting fury that earned him a Golden Globe nomination.
With Visconti he made two more films, the more sober but very intense "Family Group" (1974), where he faced Burt Lancaster in a generational duel. But the great project created by Visconti for his protégé was as insane as the title character, "Ludwig" (1973), about the eccentricities, melancholies and existential torments of King Ludwig II of Bavaria between 1864 and 1886, who was the son of Richard Wagner. , which achieved an Oscar nomination, although with its 4-hour duration -abbreviated in different international versions- it can hardly be understood as an excessive song between two lovers, the director and his favorite actor. Although Berger had a career beyond Visconti, with films like a version of Oscar Wilde's "The Picture of Dorian Gray" directed by Massimo Dallamano, or a role in Vittorio De Sica's classic "The Garden of the Finzi Contini," the death of his protector left him devastated, and for a few years his existence collapsed and he even declared that he would never act again. Over the years he reappeared in good-level TV movies such as Marvin Chomsky's "Victory in Entebbe", a small masterpiece of its kind about the rescue of kidnapped Israelis in Idi Amin Dada's Uganda, and he even appeared as a luxury guest in 9 episodes from the series "Dynasty" with Joan Collins and Linda Evans. Although he never stopped filming, he was not overly discriminating and agreed to work with the prolific Jess Franco as the mad scientist in "Faceless" (1988), and starred in Tinto Brass's cruel Nazi-sadistic sex cult film "Salon Kitty." .
When the Corleone empire moved to Europe in "The Godfather 3," Coppola cast him in a small role at a Vatican Bank meeting, and Berger even reappeared as King Ludwig in a little-known version made in Germany of the 90s. I never stop filming productions of all genres, whether for cinema and especially for European TV, his last job being from just before the pandemic and currently having a project in pre-production. The most attractive of his recent times is his autobiography "Ich" where he mentions his affairs with famous men and women such as Rudolf Nureyev, Ursula Andress, Miguel Bosé, Britt Ecland, the couple Mick and Bianca Jagger and, in case anyone was missing, Linda Blair, the girl possessed from "The Exorcist" when she was already a demon-possessed young woman.
Source: Ambito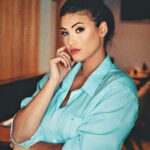 I am an author and journalist who has worked in the entertainment industry for over a decade. I currently work as a news editor at a major news website, and my focus is on covering the latest trends in entertainment. I also write occasional pieces for other outlets, and have authored two books about the entertainment industry.