After the horror marriage to Ike Turner, Tina Turner found a man who stood by her even in bad times: Erwin Bach from Cologne.
"My only true marriage" was what Tina Turner (1939-2023) once called her connection to Erwin Bach (67). The German music producer restored her faith in love, which she had lost in her violent marriage to Ike Turner (1931-2007). Her second husband has been by her side since 1985, directing her career and supporting her, especially in difficult private moments.
They met at the airport

When they met, Erwin Bach was working as Germany head of the record label EMI and was supposed to pick up Tina Turner at the airport. In her memoirs, she described meeting the 16-year-old man as "love at first sight". In her 2020 book Happiness, she wrote: "When I met Erwin at a German airport, I should have been too tired from my flight, too busy thinking about my tour and in a hurry to get to my hotel to give a lot of attention to the young music manager from my record company who was supposed to greet me. But he caught my eye and I immediately felt an emotional connection." She listened to her heart and took the first step. "So that simple first encounter led to a long, beautiful relationship – and my only true marriage." On her Instagram page, she made a declaration of love for him in 2021 after more than 30 years together: "I left behind the fear of rejection and spoke to him. One of the best decisions of my life."
First they lived in Cologne, since 1994 in Switzerland

In 1986, Tina Turner moved to Cologne to live with him. There the couple lived in the villa district of Marienburg, one of the most expensive areas of the cathedral city. In 1994 the two then moved to Switzerland, where he managed EMI Switzerland. Bach has worked with many international music stars such as Paul McCartnery, David Bowie, Pet Shop Boys and Queen. The couple first lived in a rental villa on the Zürichberg, then the two rented a villa in Küsnacht on Lake Zurich. In the Villa Algonquin they also celebrated their wedding in 2013 after almost 28 years of relationship. There were stars like the US talk legend Oprah Winfrey (69). Turner also gave up her US citizenship that year and became Swiss.
Only last year did the couple make headlines with the purchase of a historic estate, in which tennis star Roger Federer (41) is said to have been interested. The estimated the value of the luxurious property at around 67 million euros. Bach explained to the Swiss medium: "Because of the pandemic and its consequences, we – like many other Swiss people – unfortunately do not travel. With this property we have found a new weekend retreat in the immediate vicinity."
Tina Turner lost her two sons

The couple deliberately withdrew from the public eye and only appeared together on selected occasions. But they went through a lot together. He stood by her when she retired from the music business after her world tour in 2008 and 2009. He helped her through the grief following the untimely deaths of her two sons, Craig (1958-2018) and Ronnie (1960-2022). In her biography "My Love Story" she described in 2018 how her husband gave her the terrible news from Craig – on the fifth wedding anniversary of all things: "When Erwin came back into the room, he seemed deeply shaken. He told me that Craig had died. Not in an accident, which I constantly feared as a concerned mother. No, my son had killed himself." A shock for the world star: "I heard what Erwin said, but I didn't understand it, I was frozen." Two years later and only a few months before her death, she had to deal with the fact that her second son died of cancer in December 2022.
In 2017 he saved her life

Erwin Bach was also by Tina Turner's side when she had health problems. Just three weeks after the 2013 wedding, she suffered a stroke and had to learn to stand and walk again. The next shock followed three years later: Turner developed colon cancer and later her kidneys failed. As she revealed in her 2018 autobiography, her second husband became a lifesaver: he donated a kidney to her in 2017. What a token of love! "Love saved my life," Turner said at the time. She is in good health "thanks to my beloved husband Erwin", can enjoy every day and is "happier than ever".
How much she loved her Erwin, she repeatedly made it clear to the public. For a couple photo: "Who would have thought that a moment of boldness would lead to decades of shared bliss? I didn't. When I invited Erwin for the first time, it was a spontaneous decision. Sometimes seconds change your life. Because you have one feel sparks, an instant connection."
Source: Stern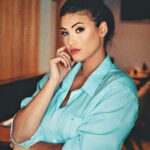 I am an author and journalist who has worked in the entertainment industry for over a decade. I currently work as a news editor at a major news website, and my focus is on covering the latest trends in entertainment. I also write occasional pieces for other outlets, and have authored two books about the entertainment industry.