Mini skirts, high heels, deep décolleté: Tina Turner always caused a stir with her fashion. Stylist Dijanna Mulhearn explains what makes her look special beyond death
Ms. Mulhearn, are you having a Tina Turner moment?
I've seen them in person once. I was 21 and working in a hotel in Sydney. One day when she was staying there, I was called into her room. She was in the bathroom, her wig was hanging in the room. I was startled because I had never considered that her hair could not be real.
How did she react?
With a smile. I remember the warmth in her eyes. A great woman!
Tina Turner was not only one of the greatest musicians of our time, but was also considered a fashion icon. What made her stand out?
Tina Turner understood the effect of fashion – and used it for herself. This was also the case in the late 1960s and early 1970s. While other artists stood in front of their microphones like trophies in smart, preppy dresses, she swept across the stage in ultra-short dresses. Sequins, fringes, ribbons – everything was in motion with Tina Turner. Although her high heels were dizzyingly high, she showed that she now had both feet on the ground as a solo artist. She became a symbol of change, as a musician, as a fashion icon – but also as a woman.
What do you mean?
When Tina Turner separated from her husband in the late 1970s, she had to assert herself as a black solo artist in a music world dominated by white people. She was divorced and in her 40s at the time. But she fought her way to the top undaunted. This made her a role model for many women, regardless of skin color and age. Tina Turner is one of the pioneers of female empowerment.
Fashion played an important role in this. In her biography, Tina Turner once wrote that her style always reflected her life. How exactly did you manage that?
During the time with Ike Turner she was like a pretty bird in a golden cage. Her dresses were already short, however, after the divorce you could literally see the liberation from all constraints: her stage outfits were a touch of nothing, exciting, shocking, but without revealing too much. They were reminiscent of showgirl costumes. In the early 1980s she released her album Private Dancer. At that time she developed her typical look: power mane, endless legs, plus the super short minis. She no longer needed the showgirl costumes of the seventies. She was sure of the attention. Her look was still sexy, but more relaxed and casual. She had arrived, and she showed that with her fashion.
Which clothes stood out?
The most important clothes probably include a red flame dress and a golden one, which was decorated with large wings. She wore both in the aftermath of her divorce. They showed the new Tina. In her biography, she wrote at the time that she not only looked like she wanted to fly it off – she did it too. The American costume designer Bob Mackie supported her fashion liberation at the time. Tina Turner met him through her friend Cher. She was often a guest on her show back then.
How does he support her?
Bob Mackie was a brilliant designer who knew how to create exciting stage costumes. He worked for Cher, Diana Ross, for Marlene Dietrich, he was also the one who once did the sketches for Marylin Monroe's famous rhinestone dress. Tina Turner also worked with him. He knew how far he could go to shock with clothes without being clumsy. Her clothes were sexy, never frivolous.
A fine line. How did that happen?
Tina Turner's looks emphasized her freedom, never her permissiveness. It was believed that her skirts had to be short, otherwise she would not have been able to move like a whirlwind on stage. Everything about her was unique: the hair, the long legs, the fashion. Women admired her for what she had achieved in her life. She was celebrated as an icon, which is why she was never perceived as aggressively sexy. The older she got, the braver she became.
How did she manage to remain ageless?
She didn't care what others thought of her and dressed as she pleased. Unforgotten is the silver negligee-style Versace dress that she wore in the nineties. It was a look that top models like Claudia Schiffer and Naomi Campbell were sporting on the catwalk at the time. Tina Turner was around 60 at the time and still showed that fashion knows no age. It was an important message.
Was she a pioneer of power dressing?
No, power dressing is associated with women in business suits and thick shoulder pads. Tina Turner's style was unique. She was brave and showed with all her outfits how much she was at peace.
How has your style influenced fashion?
She has inspired many stars such as Beyoncé, even Mick Jagger. Her stage presence, the way she moved her whole body was unique. Her iconic style will remain – even after her death.
Source: Stern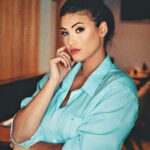 I am an author and journalist who has worked in the entertainment industry for over a decade. I currently work as a news editor at a major news website, and my focus is on covering the latest trends in entertainment. I also write occasional pieces for other outlets, and have authored two books about the entertainment industry.