In Frankfurt am Main there was a demonstration against anti-Semitism on Sunday evening at the concert by Pink Floyd co-founder Roger Waters. Reason are the recent allegations against the rock star.
At the controversial concert by British rock musician Roger Waters, representatives from politics and religious communities in Frankfurt called for a resolute stand against anti-Semitism, hatred and hate speech. "Hate against Jews is to be condemned everywhere in our city," said Frankfurt Mayor Mike Josef (SPD) on Sunday. "There is no reason to hate, insult and attack a person because of his religion." The civic duty is "to show a clear edge against anti-Semitism every day".
Josef accused Pink Floyd co-founder Waters of spreading anti-Semitic ideas "under the guise of freedom", "and we don't want someone like that in our city," said Josef.
The Hessian anti-Semitism commissioner Uwe Becker also stated that hatred of Jews should not be sung or expressed in any hall in Germany. It is terrible to understand that 85 years after the pogrom night of 1938, the events are being played down, that hatred and hate speech are being spread.
Investigations into sedition

Waters has recently been repeatedly accused of anti-Semitism, and there has been a lot of criticism of the British musician's concerts nationwide. Among other things, the 79-year-old has been criticized for his affiliation with the BDS (Boycott, Divestment and Sanctions) campaign, which calls for a boycott of the State of Israel and its assets over its treatment of the Palestinians.
On Friday it became known that the Berlin police had started investigations against Waters on suspicion of incitement to hatred. The background is the musician's stage clothing during his concerts on May 17th and 18th in the Mercedes-Benz Arena in Berlin.
In videos on social media, he was seen wearing a long black coat with epaulettes and a red armband featuring a white circle with a symbol. A week ago, Waters was also on stage in Munich in a black leather coat and red armband.
Roger Waters: "I'm not an anti-Semite"

In Frankfurt, Waters changed this part of his stage show on Sunday evening. Because he knows the history of the Frankfurt Festhalle, he refrains from disguising himself "as a demagogue" in the second part of his show, he said. He feels the suffering that happened to the people in the hall in 1938.
He knows that many people accuse him of being an anti-Semite. "I'm not," said Waters to the cheers of many viewers. The musician also burst into tears for a short time. At concerts he had also released pig-shaped balloons with a Star of David. Such a balloon also went up in Frankfurt on Sunday, but like the other previous Germany concerts without the Star of David.
Waters had previously defended himself against the suspicion of hate speech. "The elements of my performance that were questioned are clearly a statement against fascism, injustice and bigotry in all its forms," ​​said a statement released by a lawyer for Waters.
An alliance with representatives from politics, religious communities and civil society called for the commemoration and rally in Frankfurt. The police spoke of around 500 participants. Michaela Fuhrmann, Head of Political Relations at the Frankfurt Jewish Community, said the aim was to take a stand against anti-Semitism, against hatred of Israel and against conspiracy theories.
Waters changed the stage show after criticism

Some attendees held up signs reading "Israel, we are by your side" and "Roger Waters, wish you were not here" and "Roger Waters, we don' t need your education" as an allusion to two of the best-known songs by the British band Pink Floyd, in which Waters was one of the singers.
In the course of the pogrom night in 1938, more than 3,000 Jewish men were rounded up, detained and mistreated in the Frankfurt Festhalle, the venue for the concert, before they were finally deported. Names were read and prayers said in memory of them. The participants also commemorated the victims with a minute's silence.
Originally, Waters' show in Frankfurt was to be canceled due to allegations of anti-Semitism. Waters had sued against it and was right by the Frankfurt Administrative Court at the end of April. In its decision, the court also referred to artistic freedom. In his stage show, Waters obviously uses a symbolism based on National Socialist rule. The court found that the performance did not relativize or glorify the National Socialist atrocities.
Source: Stern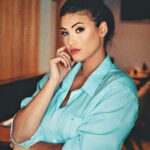 I am an author and journalist who has worked in the entertainment industry for over a decade. I currently work as a news editor at a major news website, and my focus is on covering the latest trends in entertainment. I also write occasional pieces for other outlets, and have authored two books about the entertainment industry.