In the sixth episode of "Sing mein Song" "Rooftop" singer Nico Santos was surprisingly open. In a close circle in South Africa, he revealed how he met his wife Aileen. A magical evening with lots of emotions and feelings.
With over a billion streams, Nico Santos is one of the most successful artists in German-speaking countries. You can currently see the chart-topper along with German pop icon Clueso, singer LEA, newcomer Alli Neumann, rapper Montez, Silbermond frontwoman Stefanie Kloß and "An gut Days" singer Johannes Oerding in the anniversary season of "Sing my song – the exchange concert" everyone Tuesday on Vox.
"That was the first song I wrote for my wife"

In the sixth episode, which was all about Santos' work, the 30-year-old spoke surprisingly openly about his relationship with his wife Aileen. Because LEA performed his song "Would I Lie To You" as an emotional ballad. "It was the first song I wrote for my wife," revealed Santos. "As a promise. No matter what should happen, I'll always be there." And Santos was overwhelmed: "You're making the soundtrack of my life right now," he enthused.
"Real Love" from his new album "Ride" is the "continuation" of the piece, a declaration of love to Aileen, whom he has known for eleven years. He performed the song immediately afterwards and revealed: "We have known each other for eleven years. We met at the Robinson Club, where we both worked," he said openly. They got along well right away, but for a long time they were just friends because Aileen actually lived near Cologne.
Pandemic played into the couple's hands

But then, after one of his performances at the club, Santos received a request from a producer who invited him to Cologne. From then on, the two spent more and more time together, but mostly amicably and at intervals. "At some point we saw each other again. At that time I was just freshly single – and so was she," he says. They would have talked for hours about everything – about life and about what has happened in recent years. And then it sparked.
But Santos was so busy in 2020 with "Sing mein Song", his new album and his tour that the next meeting would only be possible three months later. The corona pandemic changed everything for the couple. "She was with me the day before lockdown started and we weren't apart from then."
"I have found my home"

Santos has been happily married to Aileen for more than a year now. The two said yes in Santos' home on Mallorca. The singer remembers: Three years later he is back in South Africa with "Sing mein Song" with a wedding ring on his finger, "I know where I belong, I have found my home," he said there.
In addition to Santos' rare glimpses into his private and love life, the episode had a lot more in store. Host Oerding, who is best known for his German hits, delighted the audience with his German version of "Home". He apologized with the words "Since I'm not that good with English, I just wrote a new text." But Santos is completely over the moon. "I can't believe what you made of it," marveled the singer.
One emotional performance after the next

And Clueso doesn't sing in English either, he explained. He performed the hit "Play With Fire" in German. "I put a bunch of lines in there, I hope you kinda like it," said the 43-year-old. "What an honour," enthused Santos. "An incredible version," he concludes, and: "I'm in tears."
Rapper Montez, who is appearing on "Sing Mein Song" for the first time, performed "Low On Love" with full dedication. "It's going to be very emotional," he announced – and kept his promise with a German version of the ballad. Probably his strongest performance of this season. It also got emotional with Stefanie Kloß. With her version of "Streets of Gold" she completely upset Santos. "What's going on here?" he asked, completely taken aback. "You can fuck me up after tonight," he joked. During her performance, he had tears in his eyes.
Protea for Oerding

Neumann chose the song "Safe" and performed it in a grunge version in German because her English was "catastrophic". She explained the background to her choice of song at the same time. "I had just taken someone to the hospital, then I got back in the car and then this song played," she said. "At that point I was emotionally at my wits end and thought okay, that's out of my hands now – and I hoped that they would take good care of her and help."
Santos' reaction afterwards was ebullient. "You're just the hottest," he enthused. "Safe is the first song where I really found myself as a musician."
At the end of the evening, Oerding received the Protea for best song. "Because that's how you bring us together," Santos explained at the end. "Because you are such a great host and person and one of the craziest musicians I have ever met. Your version of my song was amazing and I will listen to it every day."
"Sing my song" is always on Tuesdays at 8:15 p.m. on Vox.
Editor's note: The star is part of RTL Germany.
Source: Stern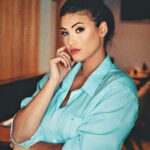 I am an author and journalist who has worked in the entertainment industry for over a decade. I currently work as a news editor at a major news website, and my focus is on covering the latest trends in entertainment. I also write occasional pieces for other outlets, and have authored two books about the entertainment industry.