On a trapeze, in front of the camera and on the catwalk, six women fight for a place in the final of "Germany's next top model". Not everyone wants to be polite.
Semi-finals on "Germany's next top model": Six models want to walk the catwalk in the live final on ProSieben on June 15 from 8:15 p.m. To do this, they now have to climb high again: in the Cirque du Soleil theater, the models in circus outfits have to pose on a trapeze above the water.
However, if you fall into the water, you are unlucky. There is no second attempt, as Heidi Klum clarifies: "One wrong step and hey presto, you're in the water and the shoot is over." Olivia balances on every piece of furniture she can find in preparation and leaves no doubt that her fighting spirit has been awakened by now. "It feels good – looking down on everyone," she jokes, standing on the edge of the couch.
Nicole ignores her fear of height and can "offer a lot" to Heidi and the photographer. Somajia loves her role as a model. She wows photographer Max Montgomery with her poses and good humor. "She's fun, she has really good energy," he says. A lot is expected of dancer Coco, but she can't think of that much. She doesn't even present her signature move, the splits. Heidi: "I didn't think it was that exciting."
GNTM: Plop into the water

Adrenaline junkie Selma almost falls off the trapeze once, but quickly catches up and has her picture just as quickly in the can. Vivien gets off to a particularly good start before what everyone was afraid of happens to her: she slips off the swing while spinning, can only hold on to the ropes with her hands and finally has to fall into the water. The shooting is over and there is a high risk that there will be no photo. Heidi: "There are maybe 30 shots in there, the others have about 150."
"Germany's Next Topmodel"
A candidate has already modeled with Heidi Klum: these are the newcomers to GNTM
But the next opportunity follows: For a campaign by Mac Cosmetics, the girls are supposed to "bring lipsticks to life" in a window. No problem for the tried and tested models. Only Coco stands out with her lack of self-confidence. She says goodbye politely with the words: "Thank you very much. It meant a lot to me. Even if I didn't win, I was very happy about this experience." Drew Elliott, Global Creative Director for Mac Cosmetics: "If she doesn't believe in it herself, she can't win."
Next, Philipp Plein welcomes the girls to present his latest collection to them in the Elimination Walk. This time the jury consists of supermodels Elle Macpherson, Plein and Heidi. Despite short dresses, high heels and stairs, there is hardly anything to complain about, even Nicole's stumbler is generously overlooked. Only Coco gets problems again. "I think she's trying to look confident," Macpherson says. "Where is she looking?" asks Heidi. "I'm disappointed," says Plein.
Olivia: "Lying doesn't help now either"

Backstage again, Coco bursts into tears, the others try to comfort her. "It's just a part," Nicole points out to the other shoots, which are also included in the rating. Olivia sees it differently: "Lying doesn't help either, folks. It's not just 'a part'." The little empathetic nature causes arguments among the tense women. "It's just not nice for someone who's unhappy when you kick it again," explains Nicole.
But Olivia is right: the dream of "GNTM" is over for Coco in the semifinals. "You can't have everything in life," she says goodbye to the show. In the final next week are: Selma, Olivia, Somajia, Nicole and Vivien.
Source: Stern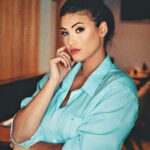 I am an author and journalist who has worked in the entertainment industry for over a decade. I currently work as a news editor at a major news website, and my focus is on covering the latest trends in entertainment. I also write occasional pieces for other outlets, and have authored two books about the entertainment industry.