Johnny Depp has emerged victorious from the mud fight with Amber Heard. Will he make a comeback in Hollywood?
As if the past five years hadn't existed: Johnny Depp (60) seems to be at the top again. The actor and musician, who celebrates his 60th birthday on June 9, was celebrated in Cannes in May. Just months after he won a dirty defamation lawsuit against his ex-wife Amber Heard, 37.
Cheers and millions for Depp

Depp's latest film, Jeanne du Barry, opened the Cannes Film Festival and received a standing ovation that lasted seven minutes. Depp has also just signed a three-year, $20 million deal to remain the face of Dior's Sauvage men's fragrance — a record-breaking sum for a fragrance deal, according to US media reports.
Amber Heard, on the other hand, is said to have moved from the USA to Spain, at the moment the actress is quiet. In the 2022 US defamation lawsuit, Depp was awarded more than $10 million in damages, while Heard was awarded $2 million in a counterclaim. It had looked different two years earlier. Johnny Depp lost a British defamation case against The Sun newspaper in 2020. Here, too, it was about allegations of domestic violence in the couple's marriage.
Depp is said to have lost lucrative offers in Hollywood as a result of the London trial. For example, his prime role as the pirate Jack Sparrow in the "Pirates of the Caribbean" series and his part as the villain Grindelwald in the "Harry Potter" offshoot "Fantastic Beasts". His presence in Cannes has also sparked controversy. Finally, the trial in the US a few months ago also revealed text messages from the actor, including: violent fantasies and misogyny.
Can Depp make a comeback in Hollywood like this? At a press conference on "Jeanne du Barry", he said he didn't feel boycotted by Hollywood, "because I don't think about it. I don't have a great need for Hollywood myself anymore".
At least as Jack Sparrow, he doesn't seem to have been written off completely yet. In an interview with the "New York Times", Sean Bailey (53) recently commented on this. In the case of Depp, he "does not want to commit himself at this point in time," said the head of Walt Disney Studios Motion Picture Production. So no clear denial.
For decades, Johnny Depp was part of the Hollywood elite

A few years ago, Johnny Depp could not have been imagined without Hollywood. Since the early 1990s he has been one of the big stars of the dream factory. After he celebrated his breakthrough with the US television series "21 Jump Street", it also ran like clockwork on the big screen: films like "Edward Scissorhands" (1990), "Gilbert Grape – Somewhere in Iowa" (1993) , "Fear and Loathing in Las Vegas" (1998), "Charlie and the Chocolate Factory" (2005) or "The Tourist" (2010) made him rich and famous. His role as Captain Jack Sparrow in the "Pirates of the Caribbean" series is iconic. The performance earned him a first Oscar nomination for Best Actor, followed by two more for When Dreams Catch Fly (2004) and Sweeney Todd (2007).
Even away from the film sets, Depp lived the life of a Hollywood star. The actor, who had talked about alcohol and drug problems in the past, was in a relationship with prominent women such as Jennifer Gray (63), Winona Ryder (51) and Kate Moss (49) after a first marriage with make-up Artist Lori Anne Allison (65) failed after two years in 1985. Things seemed to calm down in Depp's private life when he met French star Vanessa Paradis (50) in 1998. The couple had two children: Lily-Rose Melody Depp was born in 1999 and Jack in 2002. Depp and Paradis separated in 2012.
Marriage to Amber Heard ends up in court

After ending his relationship with Vanessa Paradis, Depp began dating actress Amber Heard. They married in February 2015. Heard filed for divorce in May 2016. After the separation, there was already a war of roses, but the ex-couple agreed, at least temporarily. In 2018, the "Sun" then raised allegations against Depp, and Heard also described himself in the "Washington Post" as a survivor of domestic violence, without naming Depp. Depp then went to court against these two articles. His career seemed over. Until spring 2023 …
"Johnny is doing fantastic. He's really enjoying his work and touring again. He's managed to change his life." A tour with his band The Hollywood Vampires is coming up, then he wants to direct the film "Modi". "He values ​​his health and his work," it says.
And Amber Heard is apparently also planning her return to the film business. "She's looking forward to getting back to work and filming. She was exhausted and disappointed with the process. She felt mistreated," a source quoted People as saying. "But that's all behind her now. She has renewed energy and is focused on things she loves." Maybe there is a Hollywood happy ending for both of them?
Source: Stern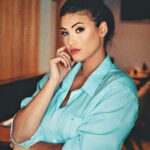 I am an author and journalist who has worked in the entertainment industry for over a decade. I currently work as a news editor at a major news website, and my focus is on covering the latest trends in entertainment. I also write occasional pieces for other outlets, and have authored two books about the entertainment industry.