Lead actress Jenna Ortega is co-producing the sequel to the Netflix hit "Wednesday." In an interview, the 20-year-old reveals what will change in season 2.
The first season of the Netflix hit "Wednesday" has already broken countless records. With over 1.237 billion hours streamed, the Addams Family spin-off is the third highest-grossing Netflix original series of all time, behind South Korean drama series Squid Game and season four of Stranger Things.
"Wednesday" season 2 will be different

And not without reason: the makers around star producer Tim Burton succeed in creating an outstanding twist about the cult Addams family daughter Wednesday in the form of a coming-of-age story with mystery, comedy and fantasy elements as well as a spectacular stage design and costume design. Fans are all the more excited about the sequel to the hit series, which is expected to appear in 2024.
Leading actress Jenna Ortega has now revealed the first details about the plot of season 2. To anticipate: Creepy and horror will be the number one priority in the world of Wednesday Addams and her friends at "Nevermore Academy". Teen rants and romance give way to gory scenes and dark thrills.
Jenna Ortega: "We're getting braver, darker"

Speaking to Elle Fanning on Variety magazine's Armchair Experts podcast, the 20-year-old says the team decided to "lean more on the horror." Any romantic love story is dispensed with, which Ortega describes as "great". In season 1, Wednesday and her classmate Xavier Thorpe still occasionally crackled. Something seemed to be in the offing with Galpin, the sheriff's son. But that should be the end of it now. "We decided to put the horror aspect of the series in the foreground a little more. (…) We're going to be braver, darker."
Series highlights 2022
Wednesday, dragons and time travel: These were the best series this year
Ortega wants to further refine the role of Wednesday in Season 2 and make her as authentic as possible. She says: "We've tried so many ideas and I'm someone who is very practical." With a character like Wednesday, a legend, she doesn't want to do anything wrong. That's why she tries to talk to as many people as possible on the set. She says, "On set we sat down with everyone, with the writers and Tim (Burton), and decided, 'Okay, what's working and what's not?'" It was very collaborative.
Tim Burton and Ortega produce together

The fact that Ortega shows so much initiative is due to the fact that she will join the executive producing team in the future and will co-produce "Wednesday" in the second season. She revealed that in an interview with Elle last month. Previously, the young star had criticized and made suggestions for some aspects of her role in Season 1, most recently in March on the "Armchair Experts" podcast, where she already stressed that she disrupts the love triangle between Wednesday, Tyler and Xavier on the show. It doesn't fit the character of Wednesday, which you know from the original "Addams Family".
The 20-year-old disliked some aspects so much that she changed things on her own during the shooting of season 1 – much to the annoyance of Burton, as she says. However, the two quickly resolved the discrepancies. Now, in season 2, they work hand in hand on a Wednesday that will please the producer, viewers, and actress alike.
"I became a doll"

"Wednesday" made her step out of her comfort zone, Ortega continues. "When you're a young woman and new to the business, sometimes people don't take you so seriously." She had to deal with people who only saw her as an actress. "I became a doll," she emphasizes. The moments when every voice is heard are the most beautiful experience.
Now that she has a say, she feels "like a little kid in a candy store." "I'm just so curious: I want to see the outfits, new characters, scripts," enthuses the 20-year-old.
Source: "Variety" , , ,
Source: Stern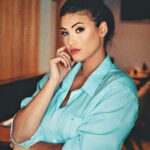 I am an author and journalist who has worked in the entertainment industry for over a decade. I currently work as a news editor at a major news website, and my focus is on covering the latest trends in entertainment. I also write occasional pieces for other outlets, and have authored two books about the entertainment industry.