September 5, 2023 – 00:00

"Nothing", the Cohn & Duprat series with Luis Brandoni and Robert De Niro about a food critic who can't even cook a hard-boiled egg, will open the Culinary Zinema section of the 71st San Sebastian Festival on Friday the 22nd. With this title, there are 14 Argentine productions at the Festival. In addition, four films from other countries have Argentine co-producers, among them "Cerrar los ojos", by Víctor Erice from Biscay, and "El otro hijo", a Colombian representative to the Goya Awards. Pampa Films is the co-producer of "Cerrar los ojos", with Soledad Villamil.
In the Official Section, the Argentine films "Puan" (María Alche and Benjamín Naishtat) and "La práctica" (Martín Rejtman) compete with 15 other films, including "Un amor" (Isabel Coixet) and "Shoot the pianist" (Fernando Trueba, about the arrest and disappearance of Tenorio Jr. in Buenos Aires, several days before the 1976 coup).
In the Latin Horizons section, out of a total of 12 participants, 6 are Argentine: "El viento que arrasa" (Paula Hernández), "Alemania" (María Zanetti), "Blondi" (Dolores Fonzi), "Clara gets lost in the Bosque" (Camila Fabbri), "Los impactados" (Lucía Puenzo) and "El castillo" (Martín Benchimol), to which "Los colonos" is added, a Chilean-Argentine co-production.
"El juicio" (Ulises de la Orden) will be the closing film of the Zabaltegui section, where "El auge de lo humano 3" (Eduardo Williams), "Los delinquents" (Rodrigo Moreno) and "Mixtape La Pampa" also participate. (Andres Di Tella). Another honor goes to "Nine Queens" (Fabián Bielinsky), which is part of the Klasikoak section along with various classics recovered from masters such as Yazujiro Ozu, Raúl Ruiz, Arturo Ripstein, Liliane de Kermadec and Yasuzo Masumura.
There are no Argentine titles in New Directors, but the country participates as co-producer of the Colombian "El otro hijo" (JS Quebrada) and the Spanish "La estrella azul" (Javier Macipe), which has music by Peteco Carabajal and was partially filmed in our country. And in other sections there are, at least, actors like Esteban Bigliardi in the Spanish-Uruguayan film "La sociedad de la nieve" (JA Bayona) or Alberto Amman in "Upon Entry/La llegada" (Rojas & Vázquez), which has already established itself Best Actor at the last Malaga Festival. And in the parallel Europe-Latin America Co-Production Forum, where 15 projects from 8 countries compete, 4 are Argentine. It is the largest selection, and is made up of Iván Fund, Lucila Mariani, Ezequiel Yanco and Bárbara Sarasola-Day. Likewise, parallel to the Festival, the winner of the Sebastiane Latino Award, organized by the Basque entity Gehitu, is defined. Four national works aspire to the same: "Almamula" (JS Torales), recently premiered, "Cross dreamers (Soledad Velasco), "The edge of the scissors" (DM Valverdi) and "The silence of men" (Lucía Lubarsky) .
Paraná Sendrós

Source: Ambito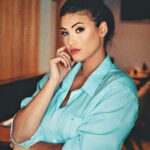 I am an author and journalist who has worked in the entertainment industry for over a decade. I currently work as a news editor at a major news website, and my focus is on covering the latest trends in entertainment. I also write occasional pieces for other outlets, and have authored two books about the entertainment industry.