Based on the life of Guillermo Enrique Hudson, writer and first Argentine naturalist, Miguel Vitagliano unfolds in "Journey to things" (Edhasa) a captivating novel that adds past and present stories, mixing essay with fiction, making appear from Conrad to Borges or Manuel Antín. Vitagliano holds the Literary Theory III Chair at the UBA, has published essays and novels, including the award-winning "Ojos así" and "Enterrados." We talk with him.
Journalist: What led you to tell the story of a forgotten writer whose identity caused controversy?
Miguel Vitagliano: Two or three texts that dazzled me and made me think about what I didn't know about Hudson. One about some flowers that he takes to his mother. The mother does not see anything exquisite in them, they were common, trivial. The excellence of those flowers was in making the common and trivial their excellence. Martínez Estrada relates that paragraph to Proust's madeleines. Those writings strongly attracted me and joined my childhood memory of going down a road and going through a place called Hudson. It was a flash. I wanted to know what was the weapon that launched that fire. I realized that this weapon that I did not know, neither did others. So, it was an excellent weapon to invent; that's what novels are made of.
Q.: It has been said of Hudson that he was a criollist, socialist, conservative, pro-Peronist, proto-anti-Peronist, and an English writer.
MV: Identity is complex everywhere, and how can it not be complex in our country which, like others in America, was made from immigrants. If I think of my grandparents, it doesn't surprise me to feel them as Italian as Argentine. In this way it does not surprise me to think of Hudson as an English and Argentine writer at the same time. What amazes me is that he is a writer. The question is to see that these texts, which were written with an ideologically conservative vision, are becoming more and more provocative because they adapt to a highly suggestive writing of the novel. When one reads Hudson's novels, one sees that they contain a lot of essays and, at the same time, his essays are loaded with a narrativity that interprets reality, this crossing is very modern. An American magazine of that time, The Little Review, which published serial chapters of Joyce's "Ulysses", dedicated one of its issues to Hudson, and Ezra Pound and Madox Ford wrote about him. It is interesting to think of that place of modernity so strange in Hudson and, at the same time, his relations with the gauchesca, with Martín Fierro -who dazzled the first Borges and Martínez Estrada- in someone who is working with narrative genres.
Q.: Is your book a historical novel, biography, essay, fiction?
MV: A novel is always fiction, and this one is too. However, significant events are real, but what are significant events? All the characters are real, that's real. And what happens in between is this life that escapes us, which is more intense when we imagine it than when we believe it to be true by hearsay. The suggestive power of fiction is remarkable, at the same time that it shows the emptiness that exists in certain areas of knowledge.
Q.: How did you discover the friendship between Hudson and Conrad, considered the best writers in the English language, even though they are foreigners?
MV: I researched Hudson, Conrad, Cunninghame Graham. I read all the biographies I could. The problem is that they all talk about the relationship between Conrad and Graham because they were very close friends and each one focuses on her biography, and I was looking for the group's gaze. Conrad was a writer who built the writer's image of him. Hudson was uncomfortable around writers. Among writers he felt like a scientist and among scientists a writer. In this discomfort, in the difference, there was a point of contact with Conrad, the two were out of place. Conrad was voicing each of his characters and the voices were contradicting each other, it was very modern. Those relationships appeared in Hudson, being very different. Conrad aristocrat, convinced of his place as a writer, superb. Hudson with less sinuous, more direct relationships, was convinced that the past had been better, Conrad had another vision. It was fantastic to think about them together and work on it. In Conrad there is the journey into the dark, a journey that certain Hudson characters also take. In Conrad's novel "Nostromo" – few realize that it is below "One Hundred Years of Solitude" – there is a countryman named Hernández, who is like a construction by Martín Fierro in another place in Latin America. At the same time, the relationship that has been made between José Hernández and Hudson is known. Things that one discovers by writing a fictional novel about true things.
Q.: Before writing, did you make a map of the Hudson route?
MV: I make a map and a territory, and the map changes the territory and the territory changes the map. One thing is doing to another. And suddenly a rain appears on what is happening in the story.
Q: Is that jump to movies based on Hudson's works, Piglia's musings, to a murderous Hudson-like sculptor?
MV: Things that interest me to appear and that make the story flow. Leaps in time, unexpected relationships.
Q.: Why is the novel called "Journey to Things"?
MV.: Things is a term that appears with different meanings. There is a very minor book by Hudson, which I find fascinating, "A traveler in little things". In a hotel, where there were many commercial travelers, a salesman sits down and starts chatting with Hudson who thinks that he is another salesman of trifles, of little things. Hudson provocatively tells that what that man did was reveal the things that were done in him to his life. In the novel "things" he invites encounters and discoveries.
Source: Ambito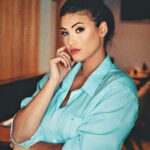 I am an author and journalist who has worked in the entertainment industry for over a decade. I currently work as a news editor at a major news website, and my focus is on covering the latest trends in entertainment. I also write occasional pieces for other outlets, and have authored two books about the entertainment industry.