Jacqueline and John F. Kennedy were the dream couple of politics. They tied the knot 70 years ago – with a big celebration.
There are more rumors surrounding this marriage than almost any other: 70 years ago, on September 12, 1953, Jacqueline Lee Bouvier (1929-1994) and John F. Kennedy (1917-1963) tied the knot. Charles L. Bartlett (1921-2017), a journalist, introduced the couple at a dinner party in 1951. When they married, JFK, the scion of a rich and well-known political family, was already a senator. At his wedding reception, the social event of the year back then, even the Pope played a role…
Jacqueline Lee Bouvier and John F. Kennedy were married on the morning of September 12, 1953 at St. Mary's Roman Catholic Church in Newport, Rhode Island. More than eight hundred guests were there,
Drama about the wedding dress

The bride, who was walked down the aisle by her stepfather Hugh D. Auchincloss (1897-1976), wore a dress by designer Ann Lowe (1898-1981) that almost didn't make it to the wedding. A pipe burst in Lowe's New York studio ten days before the ceremony and the wedding dress and bridesmaids' dresses fell victim to the water. All ten dresses were made from scratch, with Lowe and her team working around the clock.
Finally, Jackie's dress was made of ivory silk with a fitted bodice and a billowing skirt decorated with ruffles. Her long lace veil, which her grandmother Lee is said to have worn, was draped with a lace headdress. Jacqueline wore a pearl choker and a diamond bracelet that the groom had given her. The bridal bouquet consisted of pink and white orchids and gardenias.
Even though Jackie Kennedy's wedding look is considered iconic, rumor has it that she preferred to wear a simple, elegant French-style dress. Kennedy's father Joseph (1888-1969) reportedly insisted on the high-profile, ostentatious dress.
These were the witnesses

The bridesmaids dressed in pink taffeta included Jackie's sister Lee (1933-2019), her stepsister Nina G. Auchincloss (86) as maid of honor and ten other ladies, including the groom's sister Jean (1928-2020). Jackie's half-sister Janet Auchincloss (1945-1985) was a flower girl, her half-brother James Auchincloss served as a page.
Senator Kennedy's best man was his brother Robert (1925-1968). His closest companions at the ceremony also included his brother Edward (1932-2009), his brothers-in-law Sargent Shriver (1915-2011) and Michael Canfield (1926-1969) and Charles Bartlett, who brought the couple together.
The couple received the Pope's blessing

The service was led by Archbishop Cushing (1895-1970), a friend of the Kennedy family, along with four other priests. Before the mass, a special blessing was given by Pope Pius XII. (1939-1958) read out.
The reception was held on the terrace of her family's 300-acre seaside estate, Hammersmith Farm, for around 1,000 guests. Apparently it took the bride and groom two hours to shake everyone's hand. The 1.20 meter high wedding cake was ordered by Joseph P. Kennedy. An orchestra played under a huge canopy.
"Like a coronation"

at the time about the event: "The wedding of Washington's best-looking young senator to Washington's prettiest nosy photographer took place this month in Newport, Rhode Island, and their wedding proved to be the most impressive the old society stronghold has seen in 30 years "When John F. Kennedy took Jacqueline Bouvier as his bride, 600 diplomats, senators and socialites crowded into St. Mary's Church to hear the Archbishop of Boston perform the ceremony and read a special blessing from the Pope."
It continued: "Outside, 2,000 society fans, some of whom had come to Newport on a chartered bus, cheered the guests and bride and groom as they left the church. There were 900 guests at the reception and the Senator and Mrs Kennedy It took two hours to shake their hands. The whole affair, said one enthusiastic guest, was 'like a coronation'."
Not a dream marriage

The Kennedys became big stars together. The couple had four children: Arabella (stillborn in 1956), Caroline (65), John F. Kennedy. Jr. (1960-1999) and Patrick Bouvier Kennedy, who died two days after birth in 1963.
In 1961, the Kennedys moved into the White House. In reality, her dream marriage was not always like a fairytale. He is said to have had numerous affairs, including with Hollywood star Marilyn Monroe (1926-1962). His wife is said to have endured all this and protected her husband's reputation even after his death. Kennedy was shot in a convertible on November 22, 1963. Jackie Kennedy sat right next to him.
Jackie Kennedy married again

In 1968, Jacqueline Kennedy married the Greek shipowner and billionaire Aristotle Onassis (1906-1975), who was 23 years her senior, and in the meantime left the USA with her children. Only after his death in 1975 did she return and live in New York and Martha's Vineyard.
Source: Stern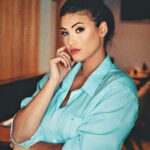 I am an author and journalist who has worked in the entertainment industry for over a decade. I currently work as a news editor at a major news website, and my focus is on covering the latest trends in entertainment. I also write occasional pieces for other outlets, and have authored two books about the entertainment industry.