Argentina had the world premiere of the making and exhibition of the first porn film. That was the myth until Ariel Magnus in his novel "The Feast of a Faun" (Seix Barral) gives verisimilitude in a story where, at the same time he seeks to find the real filming setting, he links it with the presentation of the legendary dancer Vlaslav Nijinsky in Columbus, and the world of German Jews who became businessmen, in the case of his great-grandfather perhaps a film producer. Magnus, who continues to expand his extensive work, lives in Berlin and from there we spoke with him.
Journalist: Did discovering that the first porn film was made in our country lead you to write "A Faun's Party"?
Ariel Magnus: That was a long time ago. I lived here, in Berlin, from 1999 to 2005 and at one point there was a very big porn festival and I covered it for a story. There, researching, I came across that information, which is very much a myth. It appears in a "moral history of cinema" in German that deals with the principles of cinema, and pornography in cinema. I thought: with that you have to write a novel. Now, upon investigating again, I found that the first porn was not only made in Argentina, but that the person who owned the business was a German, and that was what interested me the most.
Q.: Does your novel go from a police officer searching for the locations of that mythical porn to a dramatic autofiction?
AM: "El sátiro" or "El sartorio" (the name under which it can be found online) is not the first porn film that was filmed, but rather the oldest one on record, although the date and who did it are not known. they produced. In the absence of data, she had to fictionalize what surrounded her. The facts were there. Nijinsky was in Buenos Aires presenting "La siesta de un fauno" at the Colón, and the theme of the work is used in porn. The police thing was to find the setting, a natural landscape. How do you make it a certain place? You had to invent the story about it. Autofiction? I don't understand that genre, for me there are novels with or without autobiographical data. In my novel there are lots of things that have to do with my family. My great-grandfather, at the beginning of the 20th century, came to Argentina as a representative of Osram, the lamp factory. He made money and returned to Germany to open a supermarket. After the twenties he had to return because Hitler arrived. So, in addition to confirming that the first porn was made in Argentina, I tell how my great-grandfather made money from that filming.
Q: Did Nijinsky lead you to think that porn cinema has its origins in the ballet "A Faun's Nap"?
AM: It is a fact of reality, the closest thing we have to material proof to locate the film. Nijinsky's ballet and what is left of porn offer almost the same thing, the faun, the seven nymphs. Therefore, there must have been someone who saw the sexually provocative Nijinsky at the Columbus and was inspired for the film. In Buenos Aires there were pornography places. Eugene O'Neill told of the porn cinemas in the port, a place of sailors and high prostitution. That made it possible to film porn, here that was not as persecuted as in Europe. Data, facts and clues lead us to believe that it was carried out in Buenos Aires. Furthermore, the issue of Europeans in Argentina was to my liking.
Q.: In the novel there are tributes to two writers, the Norwegian Matías Faldbakken for a character from "Coca Hola Company", and Arlt for "El toy rabioso".
AM: It's something I had already done with other authors in "El que mover las pieces", where my grandfather mixed with fictional characters. In the case of the character in "Coca Hola Company", an extraordinary novel, I thought it was necessary that Ritmeester be in my book because he knows everything about pornography and I felt that I had to invite him to this party. Pornography interests me secondarily, a bit in theory, what matters to me is the literary version of it. When I read "The Hills" by Faldbakken a few years ago, a novel where everything happens in a restaurant and shows a world that is collapsing, I said to myself: I want to write that book, that happens to me with very few authors. As for Arlt, when the protagonists break into a house – a real one, in the Belgrano neighborhood, where my great-grandparents lived and which still exists – in the middle of the night, I remembered a scene from "The Raging Toy," and I thought that that reference had to be in the novel.
Q: Do you think "Pan's Feast" can become a movie?
AM: The book tells the possible story of what the filming of "El sartorio" was like, the first porn film that was made in Argentina. There is the problem of costs because it takes place at the beginning of the 20th century. That film, although it belongs to the dark side, is an important part of cinema history. There is also the connection with dance, with the brilliant Russian choreographer and dancer Nijinsky, his marriage in Buenos Aires with the Countess Romola. When the businessman Sergei Diagueilev found out that he had him as his sexual slave, he kicked him out of the famous Russian Ballet company. After that Nijinsky had psychiatric episodes from him. "The Nap of a Faun" offers a lyrical aspect of the sexual following Mallarmé's poem that Debussy turned into a symphonic poem and Nijinsky into a scandalous dance.
Q: What are you doing now?
AM: I have just published in German "Puerta con Puerta", a non-fiction book that my German publisher commissioned me, about the coexistence of German Jews and German Nazis in Argentina, now the idea is to translate it so that it also comes out in Spanish.
Source: Ambito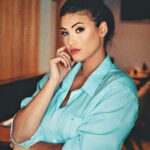 I am an author and journalist who has worked in the entertainment industry for over a decade. I currently work as a news editor at a major news website, and my focus is on covering the latest trends in entertainment. I also write occasional pieces for other outlets, and have authored two books about the entertainment industry.