November 8, 2023 – 00:00

The Talk is Free company presents the curious show "Both for rest and reproduction" in a PH rented for the occasion.

"The specific sitethat is, theater that is not presented in a theater, It takes away the feeling that we are actors and invites the audience to be close witnesses rather than objective observers.", says Maja Ardalfrom the Canadian Company Talk is Free which presents its new work for only four days, from yesterday until Friday at 8 pm in a PH that they rented and equipped especially for this show, at Guardia Vieja 4129.
The work directed by Ardal, "Both for rest and reproduction", written by Adam Meisnerhas the technology ARIA of subtitling and takes place in the year 2150, when Humans became gender neutral and use the pronoun "ish" to identify themselves. Two historians: ISH56 and his colleague ISH62 want transform an old house into a 90s museum where "cis" people represent (gender identity and sex assigned at birth are coincident) from the past. As the project progresses the group members become too enamored with the gender of their characters and eventually begin to recreate the dangerous behaviors of their ancestors. The features are free. We dialogue with Ardal and Arkady Spivak, producer of the work.
Journalist: Why did you imagine that in 2150 humanity tends to be neutral and falls in love with the "cis" of the past?
Maja Ardal: Neutral people of the future believe that gender issues taken to the extreme were the cause of conflicts around the world and a peaceful solution was to remove those extremes, to give humanity a more equalized state. Male-dominated family life is believed to be one of the causes of violence and passions such as jealousy, greed, sexuality and encouraged temptations to control each other, causing friction and war. This is how people emerged without gender, without names, only numbers. These characters do not pursue physical contact, They value personal space, and have many dreams. The future world of neutral people is exposed with some problems. As the characters try to understand people from 200 years ago, some of them They are tempted to practice those behaviors of millennials. Some are attracted by the glamor of those years, which would be our present, by the frenetic and very "busy" behavior of millennialsand by the open sexuality of men and women, which causes a new conflict in their lives.
Q: What other things did you imagine will be different in the future?
MA: The planet appears to have survived. We like to think that we rescued Mother Earth from an upcoming death. Technology is highly sophisticated, but used only to learn, communicate at a distance, and dream.. Babies come into the world but they do not belong to their parents. Diseases were almost eradicated, and religion was replaced by a society unified by "foundations of life". Death happens without pain or sadness, because humans are not family or have friends. Some of these ideas about the future are improvements of the present, but neutral people lost some things along the way.
Q.: You work on new dramaturgies, drastic revisions, reinvention of classics, which ones can you mention and how do you redefine them?
Arkady Spivak: We like to provide artists with an environment in which they can take risks, and one of the ways is to take existing work from new perspectives. Some examples are the adaptation of ""Romeo and Juliet" by Shakespeare performed by older adults, the version with five characters of "candid" by Leonard Bernstein that also incorporated puppets, and next month we are premiering "Jesus Christ Superstar" by Andrew Lloyd Webber and Tim Rice, in which we tell the story with a look at the Black Power movement in the United States. And this year we brought to Buenos Aires our multi-award-winning immersive version of "Sweeney Todd: The Demon Barber of Fleet Street" written by Stephen Sondheim and Hugh Wheeler.
Q: Why come to the other side of the world to do four shows?
ACE: That has a very profound effect. We don't just want to share Canadian stories with people from other countries, we also connect with new audiences who probably don't have access to the type of theater we do. International tours are an opportunity.
Source: Ambito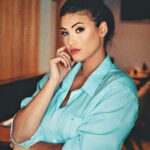 I am an author and journalist who has worked in the entertainment industry for over a decade. I currently work as a news editor at a major news website, and my focus is on covering the latest trends in entertainment. I also write occasional pieces for other outlets, and have authored two books about the entertainment industry.