On the occasion of the Pride Week in Argentinahe Bosch Palace transforms into a immersive canvas. With a pioneering approach that combines prompt engineering, art and diversitythe residence of US Ambassador It is the support of a technique of mapping in high quality on the facade of the palace.
The public can enjoy the screenings that take place until 12th of Novemberthroughout the night from 8 pm until dawn, in the building Libertador Avenue 3502of the Buenos aires city.
LGBTQI+ artists and alliesboth of Argentina like USAcommitted to equalitythe gender inclusion and the freedom of expressionthey collaborate with UXArt Lab Museum combining great masters of art with 3D projections, data art and generative artificial intelligence technology. This action marks a historical precedent of ethics and good practices in creative developments of Generative AIestablishing a revolutionary framework in terms of intellectual property and international cooperation.
On the façade of Bosch Palacecurated by Maria Jose Herreranight projections of works by Marta Minujín, Edgardo Giménez, Delia Cancela, Chiachio & Giannone, Julio Le Parc, Rogelio Polesello, Marie Orensanz, Dora Isdatne, Eduardo MacEntyre, Perla Benveniste and Ary Brizziamong other artists.
We worked in international cooperation with USA through the curator Kristina Newhouse and American artists such as Linda Besemer, Aubrey Longley-Cook and Timothy Nolan. Also shown are images of the Rest Islanddazzling natural area where the project arose UXart Lab Museum.
On the façade of Bosch Palace pieces generated by AI, 3D images, photos, videos and data art. The unmissable visual spectacle of mappinglasting more than an hour, with a large number of consecrated masters of the art makes it a true outdoor high visual and museum impact feature.
There are images of historical works, such as the Julius Le Parc Obeliskworks by Gyula Kosice and Miguel Ángel Vidal that were exhibited in the first Cryptoarte Official Pavilion of the 59th edition of the Venice Biennale in The times of the chimeras. In addition, works of land art and performances of Nicolás García Uriburuwho – along with Edgardo Gimenez– currently exhibits samples at the Museum of Modern Art and in the MALBArespectively, and here their unpublished production in digital format: a new avant-garde form that brings us closer to our artists.
Pride Week in Argentina
We continue celebrating 200 years of diplomatic relations and friendship between the United States and Argentina honoring the diversityhe I respectand defending the human rights for all. UXart joins the United States Embassy in Argentina during the Pride Week. The celebration between both nations further extends the themes of mutual respect and cooperation.
During the Pride Week in Argentinathe art-focused initiative aims give visibility to LGBTIQ+ artists and allies, democratize access to art and enhance creations of them for educational purposes, generate new formats of dialogue and visual expression through the use of tools 3D digital art and generative AI. Some of these works, which reflect the history of generative art and its Argentine roots, were in the Museum Night in the projection on the IBM tower.
In this case the UXart laboratory/museum created between Felipe Durán and Beto Resano works for promote art, diversity, and shared values between the two nations. Its objective is to promote advances in the digital ethics and in the copyright protection, also bringing art closer to new audiences and audiences. Promoting ethical and legal practices that protect the copyright and intellectual property of artists. They worked together with Lucas Arias in engineering Generative AI prompts and processes to create this unprecedented dialogue between artists, corporations, governments, museums and the machine. Claudio Stamato gave support in the legal part. The philanthropists who sponsored this exhibition preferred to remain anonymous. All of them are the ones who managed to provide the intellectual and economic resources to make this happen and accompany this special request from the ambassador and his wife.
Felipe Duran assured that "the world is trying to find good practices for the correct use of artificial intelligence. This mapping is immersed in a context where UN and the executive order on the use of AI of Joe Bidenthe president of USAthey seek to generate ethical and safe paths for the development of Artificial Intelligence. It is this group of Argentine artists, with a avant-garde essence and own poeticswhich tells a shared history and calls for research on Generative AI applied to art that we carry out with the laboratory team."
Who are the Argentine artists and allies LGBTIQ+ participants?
Curated by María José Herrera
Nicolás García Uriburu
Delia Cancela
Edgardo Gimenez
Chiachio & Giannone
Claudio Stamato
Andrea Nogueira Pasut
XReal-Isla El Descanso
Marie Orensanz
Cane Diaz
Dorita Isdatne
Gyula Kosice
Miguel Angel Vidal
Edward MacEntyre
Christian MacEntyre
Roger MacEntyre
Eduardo Rodríguez
Perla Benveniste
Martha Boto
Gregorio Vardanega
Ary Brizzi
Rogelio Polesello
Julio Le Parc
Alberto Echegaray
Beto Resano
Lucas Arias
American artists
Curated by Kristina Newhouse
Linda Besemer
Timothy Nolan
Artist list, TBD
Source: Ambito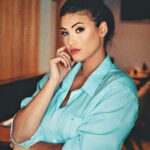 I am an author and journalist who has worked in the entertainment industry for over a decade. I currently work as a news editor at a major news website, and my focus is on covering the latest trends in entertainment. I also write occasional pieces for other outlets, and have authored two books about the entertainment industry.