Humor was his outlet for dealing with the separation from Amira, Oliver Pocher recently said in an RTL interview. He is now putting his words into action: from January 2024 he will be going on tour as "Der Liebeskasper".
The separation of Oliver and Amira Pocher has been dominating the headlines for months. The 45-year-old himself ensures that it will probably stay that way for a long time. Pocher has now announced on Instagram that he will be going on tour next year and will address his failed marriage in his new comedy program. The tour is called "The Love Kasper". On the poster, Pocher can be seen with four kissing lips on his face. He also wears a white T-shirt with the inscription "Love On Tour" – a reference to British singer Harry Styles' tour of the same name.
"Der Liebeskasper": Oliver Pocher is going on tour from January 2024

Pocher's first appearance is planned for January 5, 2024 in Rust, with another twelve to follow in January. Pocher also announced that he would be announcing additional dates for Hamburg, Berlin, Austria and Switzerland in the coming week. "I hope you have fun. There's a lot to tell, if I just review what's happened recently, then it'll be a fun evening for you at least," Pocher said in an Instagram story fans.
In his comment he writes: "The Love Kasper is coming to your city (…) And he has brought a bag of good humor with him. He has had them all and lost them all again. Why does everyone always make themselves into the Love Kasper and end up alone there?" The program will not only be about Pocher's failed relationship with Amira, but also about other celebrity couples such as Heidi Klum and Tom Kaulitz or Laura and Michael Wendler. At the end of his article, Pocher writes ironically: "This event is a charity gala and 50 percent of the proceeds go to the Amira & Sandy Fund, the rest is shared by Boris Becker and Wendler."
Marriage over with Amira Pocher
Two marriages and many public relationships: Oliver Pocher and his wives
Oliver Pocher has already gossiped about other ex-girlfriends

There was already a hint of Pocher's upcoming tour in his interview with RTL presenter Frauke Ludowig. "For me, the best therapy is that we all laugh about it together. My outlet is comedy. I'm not quite finished with the event yet," he said. Oliver Pocher has already spoken publicly about his ex-girlfriends in the past – but it didn't always have anything to do with comedy.
For example, in 2010 he said about actress Jessica Schwarz, with whom he was in a relationship at the end of the 90s: "Without wanting to offend her: Jessica Schwarz has never had a really big role with which she would have taken off." Last year he gossiped about Monica Ivancan, with whom he was together for four years, after she ignored him at Oktoberfest: "Maybe she was so botoxed that her lips no longer move. Or maybe she had a stroke or can not speaking properly." And he denied tennis player Sabine Lisicki a successful career. "I've never been with a female athlete. I don't know what it's like to be with a top athlete," said Pocher in 2017.
Source:
Also read:
Source: Stern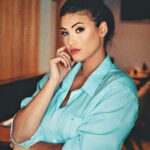 I am an author and journalist who has worked in the entertainment industry for over a decade. I currently work as a news editor at a major news website, and my focus is on covering the latest trends in entertainment. I also write occasional pieces for other outlets, and have authored two books about the entertainment industry.