In an interview, musician and actor Emilio talks about his plans for 2024 and reveals how he manages his busy schedule.
Emilio Sakraya (27), stage name Emilio, will release his new single "Rain" on November 17th. His third album will be released in 2024 and can be heard on tour. Next year he will also take part in the VOX music show "Sing meine Song" (broadcast in spring) and can be seen as a mixed martial arts fighter in the Netflix film "60 Minutes" (starting January 19, 2024). . In an interview with the news agency spot on news, the musician and actor talks about his plans for 2024 and reveals how he balances his stressful professional life.
The coming year will be particularly exciting for you with the album release, the Netflix film and "Sing my Song". What are you particularly looking forward to?

Emilio: For me the absolute highlight is and remains the tour in May! All the hard work of the past and coming months will then be shared live and in color with those who are most excited about it. You can sort of pick your laurels on stage, and this direct and massive exchange of energies – there's really no better feeling than standing right in front of your fans with your band and listening to all the songs you've been listening to for a year written in a variety of places and with a variety of emotions, to finally celebrate together!
"Rain" is the first single from your third album. The point is that arguing doesn't necessarily have to be a bad thing. How does the song express this and what experiences have you had about it in your own life?

Emilio: The song conveys absolute happiness, even though the lyrics are very sad and feel rainy. I think that in all relationships of any kind that have been in place for a long period of time, disputes are part of it and, provided you communicate healthily, they are often exactly the moments that make relationships stronger because you openly and honestly talk about your mistakes tries to avoid this in the future to the best of our knowledge and belief. That's why I love this song so much, almost like a kind of anticipation that you have when you're arguing because you're already aware of the positive outcome, the sun shining again.
For your third album, according to the announcement, it was "time to stop for a moment, turn around, look back and be grateful." What do you see when you look back?

Emilio: Definitely too much to summarize smartly in one interview answer. I really work a lot and have been doing so for a very long time. At some point, a certain restlessness develops unconsciously. It was important for me and my development to simply look back and see what we have already achieved, to pat ourselves on the back and to check that we have actually already reached our goal , which I have always dreamed of.
They are also going on tour with the album. What do you like most about touring life and what do you find difficult about it?

Emilio: As already mentioned at the beginning, for me it's celebrating the songs together with the fans. This unique feeling when strangers know your lyrics by heart and the exact words that saw the light of day in some studio, at some latitude in the world, at some weird time of day, are sung along with devotion by thousands of happy people, remains absolute forever surreal! The hardest thing for me is getting enough sleep. After a show like that you just have an unbelievable amount of adrenaline and unfortunately I personally can never fall asleep as long as the tour bus is rolling.
You are often referred to as multi-talented. How difficult is it for you to do justice to all areas, i.e. music and acting? Have you ever thought about focusing on just one path?

Emilio: Super difficult, but I have an amazing team behind me who coordinate everything so reliably that we can do it. A film, an album, a tour – doesn't that sound manageable? No. Is not it. The calendar is of course my biggest opponent and if the day had 48 hours, I would certainly have more time for my family and my closest confidants and friends, certainly more free time, but film and music and fashion and all the things in which I Being able to let off steam creatively is my passion and therefore also the fuel that I need to live.
They can be seen as mixed martial arts fighters in the Netflix film "60 Minutes" from January. You were enthusiastic about martial arts even as a child. What experiences have you had in this area, what have you learned for your life?

Emilio: Martial arts have always been a big and important part of my life. I would even go so far as to say that he is definitely the origin of my discipline. And without this discipline it would be impossible to pursue all of the things in life that I just mentioned at this very high level. I generally think that sport gives you a lot for real life.
How did the preparation for the film go? Was it a big difference from your previous roles?

Emilio: We had a very long preparation time with a lot of stunt rehearsals and fight choreography. It was also a very long journey to find my role, the character Octavio, visually and visually. Scars, hair, tattoos – it was a long journey of discovery. And of course it was a very physical preparation, I'm not doubled once in the film, so I got a few hours on top.
You will also be part of "Sing my Song" in 2024. How did that happen?

Emilio: We actually had discussions with the executive production company before, but unfortunately we never found the time to make it happen. That's why I'm very happy to be able to take part this time! For me it's one of the absolute strongest music formats we have in Germany, if not all of Europe.
Things always get particularly emotional in the show. Do you find it difficult to show emotions in front of the camera?

Emilio: I'm curious, I rarely find it difficult to be emotional in film, but in this case I don't play a role, I'm there as Emilio. It will definitely be exciting.
Which artist from the show were you particularly happy about?

Emilio: Tim Bendzko! We're both on the same label and work with the same producers, and yet we've never managed to get to know each other. And of course Joy Denalane, because I've always celebrated her music.
The many projects sound like a lot of work. What do those around you say? Do you still have enough time for your private life?

Emilio: I have a very small private environment that has always been very understanding of my passions and at the same time I try to coordinate my obligations so that those I know know that they are important to me, so when there is one last plane, train or something Ride home, then I'll take this chance – no matter how late. At the end of the day, my family is always my absolute priority.
What do you like to do most to balance out all the hustle and bustle in your life?

Emilio: Sport and since I've been living in Munich, I've been treating myself to short trips to the mountains. Both are ideal for clearing your head.
Source: Stern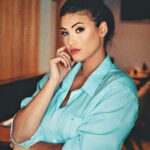 I am an author and journalist who has worked in the entertainment industry for over a decade. I currently work as a news editor at a major news website, and my focus is on covering the latest trends in entertainment. I also write occasional pieces for other outlets, and have authored two books about the entertainment industry.