"Since mid-2022, we have noticed a change in trend. Data released this month on April inflation suggests that the Fed may finally be winning the battle."noted a report from Criteria.
Although the prices of services remain at high levels after registering an annual variation of 7.3% in February, they have experienced a slight decrease in March and April, showing an annual variation of 7.1% and 6.8%, respectively. Housing costs, which represent the largest component of services and about a third of the general CPI index, increased by 0.4% in April, the smallest increase in more than a year.
Source: criteria
Moderation of Inflation in the US: what does it mean for investments?
For investors, inflation is clearly one of the main concerns. It affects markets by putting pressure on asset valuations and eroding company margins. For example, the 10-year Treasury bond rate, which is used in benchmark pricing for both stocks and bonds, is considered for valuations to be the "risk-free rate."
"The higher the expected inflation rate, the higher the 10-year Treasury rate will be, and therefore the lower the stock's valuation will be.. In addition, with higher inflationary pressures, corporate margins tend to decrease, which results in a decrease in company profits," they affirm from Criteria.
Changes in the "risk-free" rate affect valuations
Source: Bloomberg
Changes in the 10-year Treasury rate were a big driver behind stock prices in the first few months of this year, while the impact of rising input prices on margins turns out to be the reason why company profits are expected to decline during the first quarter of 2023.
Recommended Cedears in the inflationary context
But not all is lost. Despite persistent inflation, there are companies that can withstand the impact of rising prices, according to Criteria.
For example, PepsiCo, a beverage and snack giant, reported strong first-quarter 2023 results and raised prospects for the fiscal year. In part, because of its strong pricing power over its products, which enabled it to successfully weather inflationary pressures in its business lines. The news was well received by the market, with the share price reaching new all-time highs.
In addition, the big tech companies as Microsoft and Alphabet (Google) that have strong net cash positions on their balance sheets, they can generate value through possible upward revisions in future cash flow. "These companies have greater potential in the current context, since their appreciation could be due to future upward corrections in their cash flows. The good first-quarter results presented this week by these two companies reinforce this thesis," they affirm. in criteria.
As an investor, it's important to be aware of how inflation affects markets and select companies with the ability to generate strong cash flows and withstand the impact of rising prices. With the right perspective, you can ride the economic roller coaster with confidence and grow your investment portfolio for the long term.
Within this framework, Criteria revealed to Ambit his Recommended portfolio of Cedears – Argentine Certificates of Deposit –containing 20% of Google shares, 10% of Microsoft, and 10% of PepsiCo.
In addition, the portfolio includes 10% shares of Visa, 10% of Cisco Systems, 10% of Apple, 10% of McDonald's, and 10% of Warren Buffett's Berkshire Hataway.
Let us remember that the Cedears operate in pesos and can be bought from Argentina on the Buenos Aires stock market. These instruments are tied to the evolution of the dollar Cash with liquidation, and the underlying share of the company, which in turn can pay dividends in dollars, which are received in the principal account.
Source: Ambito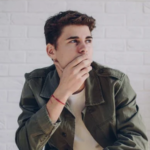 I am a 24-year-old writer and journalist who has been working in the news industry for the past two years. I write primarily about market news, so if you're looking for insights into what's going on in the stock market or economic indicators, you've come to the right place. I also dabble in writing articles on lifestyle trends and pop culture news.