The actor Fabian Gianola was dismissed in the case for sexual abuse that the actress had started Fernanda Silvia Meneses, reported this Friday the head of the Specialized Fiscal Unit for Violence against Women (UFEM), Mariela Labozzetta.
According to the ruling to which Télam agreed, the defendant was investigated for four events that occurred against Meneses in labor circumstances: having sexually abused her through carnal access, at the end of 2011; touching of a sexual nature without her consent, in 2016 and in June 2017 and sexual abuse, in August 2017.
When he was summoned to give an investigative statement, the actor refused to be questioned and made a digital presentation through which he rejected the facts.
In the resolution, the judge limited herself to resolving the facts described as I (having sexually abused her through carnal access) and IV (sexual abuse) denounced by Meneses, whose investigation was delegated to the Specialized Unit on Violence Against Women (UFEM). ), and pointed out that the actor had already been dismissed from the rest.
"The representative of the Public Prosecutor's Office considered that there were sufficient elements to dictate the prosecution of Fabián Javier Gianola," recalled the magistrate.
However, the judge understood that, regarding facts I and IV attributed to Gianola, "the elements that make up the factual platform of the present, are insufficient to take as proven the circumstances of time, manner and place that constitute the maneuvers under analysis, not noticing elements of the charge that make it possible to aggravate the procedural situation of Fabián Javier Gianola".
In addition, he pointed out that the people that the complainant had mentioned to support her statements "contradicted" her, that the expert reports were inconclusive as to whether she had suffered abuse and that other evidence could not be gathered.
"In response to the conclusions obtained through the expert opinion (…) it is noted that the disagreements between Meneses and Gianola had their genesis in labor discrepancies; circumstances that are far from the occurrence of an act of sexual abuse," he remarked. The judge.
For all these reasons, the magistrate ordered the dismissal of Gianola, who is also being investigated in this same case for three other acts of abuse reported by the presenter Marcela Viviana Aguirre, in 2019, since both files were accumulated.
Source: Ambito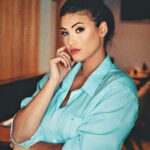 I am an author and journalist who has worked in the entertainment industry for over a decade. I currently work as a news editor at a major news website, and my focus is on covering the latest trends in entertainment. I also write occasional pieces for other outlets, and have authored two books about the entertainment industry.