September 13, 2023 – 12:13

In the premarket there were swings in bond yields and stock prices that rose, fell, and then rose again.

Wall Street experienced some turmoil this Wednesday following the publication of the highly anticipated inflation data in the US, which revealed an increase in prices in August that did not exceed expectations.
However, the main indicators of the New York market resist the data and operate in green. He S&P 500 registers an increase of 0.2%. He Dow Jones Industrial Average rises 0.2% and reaches 34,700.53 points, while the Nasdaq advances 0.3%.
These movements occur after some initial hectic operations in the financial markets after the publication of the report inflationwith variations in the yields of Bonds and stock prices that went up, down, then up again. According to the report, American consumers experienced an increase in prices of 3.7% compared to the previous year last month, surpassing the inflation rate for July, which was 3.2%.
Wall Street and the inflation data
This increase in prices is challenging for buyers facing higher costsalthough much of this acceleration was due to rising costs of fuel, which can experience sharp and rapid fluctuations. Without considering these factors, economists note that underlying inflation trends indicate continued moderation. Inflation peaked last year, topping 9%.
The focus is on this inflation report because will influence the next decisions of the Federal Reserve regarding interest rates. The Fed has already raised its main interest rate to the highest level in more than two decades, hurting stock prices and other investments. The hope on Wall Street is that inflation has moderated enough that the Fed can ease policy.
Wednesday's data probably will keep the Fed on track to keep interest rates stable at their next meeting next week, according to Gargi Chaudhuri, Head of Investment Strategy at iShares, Americas. It could also mean that trends continue such that the Fed doesn't need to raise rates again this cycle.
However, Chaudhuri also warned that expectations of interest rate cuts next year among Wall Street traderst they might be too aggressive. Such cuts may boost stocks and other investments, but inflation remains above the Fed's 2% target.
"In any case, The overall rise in inflation is a sign that the Federal Reserve may need to keep rates higher for an extended period, and expectations of sharp rate cuts next year may be miscalibrated," Chaudhuri said.
Although economists tend to leave out fuel costs when analyzing inflation to identify underlying trends, households and businesses do not have that luxury. Airline shares tumbled after some of them warned of the hit to their profits due to rising costs.
Source: Ambito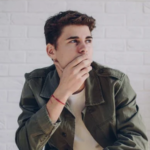 I am a 24-year-old writer and journalist who has been working in the news industry for the past two years. I write primarily about market news, so if you're looking for insights into what's going on in the stock market or economic indicators, you've come to the right place. I also dabble in writing articles on lifestyle trends and pop culture news.