Jose Luis del Palacio, Co-Founder and Over The Counter Manager at Decryptotook a few minutes to talk with Ámbito during his participation in Labitconf 2023. Regulation, dollarization of investments in an election year, the relevance of the crypto dollar as a market thermometer, and the coexistence of the traditional market with the cryptographic market were some of the topics discussed. Will crypto asset prices rise in 2024?
Journalist: What is Decrypto and what does it offer to users and companies?
Jose Luis del Palacio: We take the best of the traditional financial market with the best of blockchain technology to create a company that bridges the two worlds. A person can interact with the traditional market, whether collecting, paying, or making investments. Companies can make payments and collections abroad. They are also a vehicle for SMEs that today have quite limited operations. We have a range of products for both end users and SMEs and what we do is unite the two worlds so that they feel comfortable with a company that already has a track record since 2018. It is an ecosystem that does not stop growing and with a technology that is already unbeatable, not only in Argentina but worldwide.
Q: What tools have you incorporated over the years? taking into account that it is a technology that changes all the time
JP: We started in 2018 in a totally different world. In the middle, a huge pandemic happened that accelerated all digital innovation, digital payments. Today we are at a very important turning point. These last years or this last year in particular were quite negative in terms of the price of crypto assets, and in terms of investments, because the American interest rate rose a lot and that affected all markets.
Q.: The rise in the Fed rate greatly affected the stock markets that are correlated with the crypto world…
JP: The entire American stock market fell, including technology companies that had no floor. Today it looks totally different, there is a brake on feeling that the cycle is over, that the American interest rate stopped rising a week ago. From there all markets rebounded. This particular year we have elections in Argentina; So to the international aggregate we have this issue of local uncertainty.
Q: How do you see the markets continuing from now on?
JP: What we are seeing is a very bullish market in everything that is equities and obviously technology ones as well in that context. We see a lot of tailwinds for Argentina, which is a market very dependent on raw materials, and we also see a lot of tailwinds on the issue of cryptocurrencies. Today cryptocurrencies are part technological, which is the big part, but apart from that they also function as a commodity. Surely soon they will begin to be listed on the large stock exchanges in Argentina. In particular we also see that after the last elections, the first round, the dollar adjusted quite a bit and it also seems that it hit its ceiling.
Q: The crypto dollar was key in these elections. How do you think the paradigm changed?
JP: It is key because it quotes 24 hours a day, including Saturday and Sunday. There was a photo of Sergio Massa, who is part of the current government, looking at the quotes in the run-up to the elections to see what was going to happen on Monday, that was something extremely striking, it was very good, because it gives a certain volume to the market and a depth and importance that not everyone sees. The thing is that there was a trend toward dollarization of portfolios that will surely continue until after the elections. We have a particular product called MD3 that is focused exclusively on currency hedging, so we have a range to get through this election year. Surely in the coming years what is investment is going to be very good.
Q: So, like in the stock market, did you see that strong movement towards dollarization in the run-up to the elections?
JP: We are seeing it now in the AL30, for example, which between last Thursday and Friday is rising measured in pesos but not in dollars. Therefore, that gives you the magnitude with which people are beginning to dollarize.
Q.: Regarding the issue of adoption by both companies and individual consumers, how do you see it, to what degree are we today?
JP: End users are the first to enter a new technology and that is very natural because the user does not analyze what is behind it, what they want is to solve a problem; He solves it and that's it. Companies work totally differently, they have their law firms, their accounting firms, everything has to be legal. Today cryptocurrencies are legal and legality is given to you, for example today by AFIP that charges you personal property, if it would be illegal it would not be able to collect those taxes, for example, then they are implicitly telling you that it is legal. Today companies are using it to a greater or lesser extent for collections, for payments, even for payment of salaries in USDT, which is like paying in dollars. You have a whole market that began to adopt it, especially SMEs, especially the smaller SMEs, the most family-run ones with collections and payments abroad, which is what is being used the most today.
Q.: A topic that is talked about a lot in the crypto ecosystem is regulation, do you think there is a lack of laws in Argentina?
JP: If you ask a bitcoiner, they will tell you that it is better that it is not regulated, but let's be honest, there are companies that cannot operate if there is no regulation behind them. There are companies that if there is no controlling body, like the CNV, they are afraid, so it is inevitable that there will be regulation. Let's hope that the government that comes has pro-market regulation so that they let companies work and let them use cryptocurrencies to be more efficient and have better costs. Argentina is a country that has quite high costs, which is why we believe that regulation will be good for companies. What is happening in the rest of the world, for example in Europe, is that there was a regulation recently and now they are implementing another one that will begin next year than the MICA law and brought a rain of investments to the entire crypto ecosystem.
Q: What do you think is going to happen in the coming years with the ecosystem? Taking into account that it had some legitimacy crises as a result of the collapse of some cryptocurrencies and exchanges.
JP: Integration with the traditional market continues, which is where we are. I think that this path is inevitable and it will almost certainly go there and even more so if there is regulation. There is also a parallel path which is that we believe that the two will coexist: which is the entire web 3 revolution, which is beginning today. It's not ripe yet. There have been some problems that are public knowledge. If you ask me what is going to happen in the short term, it will surely be the union of the two markets, we will no longer have the crypto world and the traditional world, but a united market now, and if you ask me In the long term, web 3 will surely be a new market.
Source: Ambito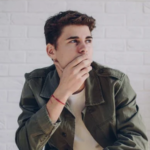 I am a 24-year-old writer and journalist who has been working in the news industry for the past two years. I write primarily about market news, so if you're looking for insights into what's going on in the stock market or economic indicators, you've come to the right place. I also dabble in writing articles on lifestyle trends and pop culture news.