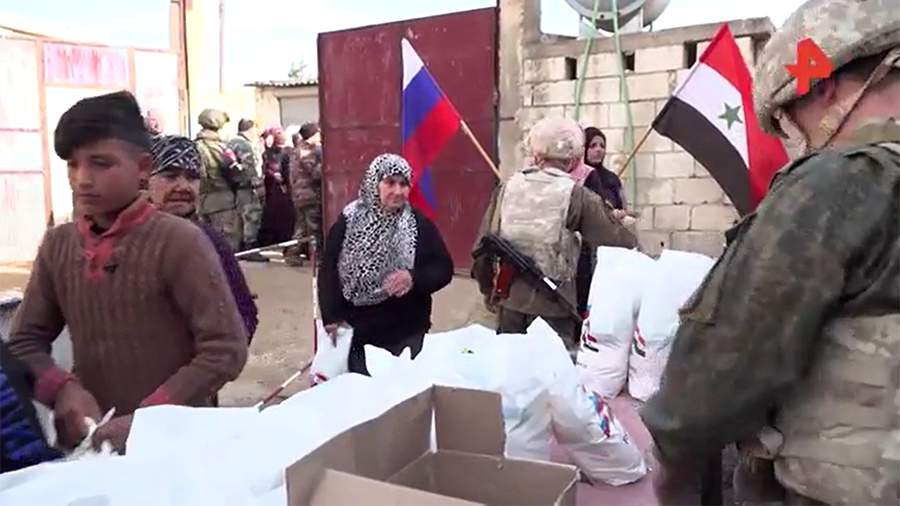 The Russian Center for the Reconciliation of Warring Parties (CPVS) brought 5 tons of food each to four settlements in the Syrian provinces of Hama, Homs and Idlib, the Russian Defense Ministry said on January 28.
"Real heroes live in Gur el-Asi. For several years they held out, being almost completely blockaded by militants. For groceries, they had to travel along a highway shot through by terrorists, "said Rafik Akila, a representative of the Hama city council.
He added that the leaders of illegal armed groups promised not to touch anyone if the self-defense forces laid down their arms and surrendered. But the residents of the village did not let the militants in.
In each of the four villages where humanitarian aid was delivered, the distribution was organized in such a way as to avoid a stampede. It was held in school buildings.
The TsPVS added that due to frosts unusual for local latitudes, representatives of the center have to work seven days a week and help residents cope with the cold.
Earlier, on January 15, Russian military personnel delivered 3.5 tons of food and school supplies with toys to children in the Syrian village of Shamid al-Mahadra in the province of Latakia. Many families in the villages have men who serve in the Syrian army, and almost every family has those killed or wounded in the war. People mainly grow citrus fruits and olives, which brings a modest income, so Russia's humanitarian aid is in great demand.
Source: IZ