Leo? Leo Neugebauer? When the 23-year-old improved Jürgen Hingsen's record in June, he also surprised the decathlon legend. Is there World Cup gold now? The team captain is fifth and warns.
When it came to the tricky question of medals, ex-world champion and European champion Niklas Kaul preferred to refer to the world's best of the year, who broke Jürgen Hingsen's age-old record this summer: Leo Neugebauer.
The 23-year-old smiled deeply relaxed shortly before his World Cup start in Budapest. Neither the burden of favorites or missing suitcases nor the expected sweltering heat for the competition can shake him. "As hot as it is here – that's a cool day in Texas," said Neugebauer, who improved the German record by four points to 8836 points at this year's US college championships.
Hingsen: "Have two great decathletes"
"I'm happy that such a great young athlete enriches the decathlon and that we have two great decathletes in Leo and Niklas," enthused the 65-year-old Hingsen, who himself was surprised by the end of his 39-year record. "Of course it's nice when such a supreme discipline is represented by two exceptional athletes."
The trio will be completed on Friday and Saturday at the National Athletics Center in Budapest by World Championship debutant Manuel Eitel (26). "It's about three World Cup medals. If I could get one of them and Leo is still better, then that's completely fine and right," said the 25-year-old Kaul. World Champion 2019, European Champion 2022 – and now?
"I'm ninth in the world this year – the question goes to Leo," said Kaul, Germany's "Sportsman of the Year". Neugebauer doesn't like to be pressured. Accompanied by 26 personal fans wearing T-shirts with the inscription "Leo The German" and the point markers from the record, the 1.98 meter giant Neugebauer wants to enjoy the days of the competition.
"I'm going to go out there and have fun," said Neugebauer, who is studying economics on a full scholarship at one of America's track and field strongholds, the University of Texas at Austin. In perfect conditions. They are "almost better than for a professional," said Neugebauer, around whose neck dangles a chain with the continent of Africa as a pendant. Neugebauer was born in Görlitz and, like Eitel, grew up in the Esslingen district. His father is from Cameroon.
Kaul: "Leo is more the entertainer"
Due to his move to the USA in 2019, he is not well known to the German sports public. Not yet. In America, the model athlete has matured into a world-class decathlete – and has taken a good dose of lifestyle with him. "Leo is more of an entertainer," said Kaul, who caused a great goosebump moment with a rousing race to catch up at the European Championships in Munich last year.
The decathletes are next to javelin thrower Julian Weber the most promising medal hopes for the German Athletics Association. After six out of nine days of competition and the fifth place of walker Christopher Linke on Thursday in German record time over 35 kilometers further without precious metal.
"When Leo Neugebauer stands up and says he's the best in the world, 'I win gold' and he wins gold, then I take my hat off," said team captain Linke. "But he won't stand up. He'll say he wants to do his best and maybe he wants to win a medal. You always have to be realistic about your goals."
This is roughly what Neugebauer does, for whom his parents brought a set of spikes to Hungary because his suitcase had disappeared in the meantime. He needs an extra pair for each discipline. "My main goal is just to show that the record wasn't an accident and to show that I've got what it takes," said the eighth-placed all-time leader. "I know that it can definitely go in that direction again." In the team hotel, where other nations also cavort, he absorbs "really energy". For example, when you just meet pole vault superstar Armand "Mondo" Duplantis from Sweden in the aisles.
Frenchman Kevin Mayer is ailing
Decathlon national coach Christopher Hallmann is confident about the greatest German title chance in Hungary's capital. "We have a constellation that we have never had before with Leo, Niklas and Manuel," he said. Neugebauer was also explicitly reminded of this in a conversation with the American Trey Hardee, world champion in 2009 and 2011. "He said it would be a bit like Germany versus America," said Neugebauer. Especially since the French world record holder and world champion Kevin Mayer is injured.
"I think it's incredibly nice that we have such a good team. It's a lot of fun when you know that there are two other Germans who are breathing down your neck a bit," said Kaul, "and one of them in the moments that definitely come when you're a bit tired and drained or say, now I'm actually not in the mood to get out of there anymore."
Source: Stern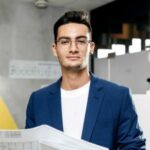 I am Pierce Boyd, a driven and ambitious professional working in the news industry. I have been writing for 24 Hours Worlds for over five years, specializing in sports section coverage. During my tenure at the publication, I have built an impressive portfolio of articles that has earned me a reputation as an experienced journalist and content creator.