Journalist: How was the genesis of "La variante del Tango"?
Pablo Nemirovski: It comes from a kind of delusion of thought, from when there was the monothematic question of the pandemic. Then came the period of the Delta Variation and the first thing that occurred to me was to make a play on words with the "Tango Variant". That bothered me and I said "well, something has to be done with this". I spoke with my friend Ariel Prat and told him that we had to do something. It seemed to me, within all the mess that was the situation, something funny. We agreed to do a song and he told me "go away with the music, I'll do the lyrics." We both ended up working on music and lyrics and we conceived it together. The first draft came out in a while. Then we worked on it and polished it. It was something that had to come out.
Q.: How did the Tierra del Fuego orchestra enter into that idea?
PN: I had a job pending that I was doing with Tierra del Fuego, in which I was working on concerts with the participation of Ricardo Mosner, with whom we do live music and painting shows. I felt the desire and the need to establish that work in some way, so we conceived the album as a kind of work in which painting also has its place. Ricardo participated in each of the songs on the album. The idea was that, to collaborate with these two different issues. There was a very pleasant osmosis. In other topics, the possibility of inviting friends and loved ones also arose.
Q.: Tango is a genre originating in the Río de la Plata. Does it benefit you to compose and interpret it from so far away?
PN: The fact of being far away allows me to break with the schemes. Not because of a whim, but because I don't have the same limits that I should have if I lived there. Although there are also limits here, because there is a kind of yearning among the people that tango has to be danceable. The usual story, which has happened since the birth of music: there is always the tango police or the jazz police, who tell you "this is not tango" or "this is not jazz". Being far away, I think it weighs less on me and I also have the possibility of being in contact with musicians who come from different horizons. I feed on what they propose to me.
Q.: How is that exchange?
PN: I propose but I also receive. I am lucky to find all kinds of influences. The percussionist, for example, is Moroccan and a great student of Indian music; or the pianist, Sephardic, introduces her culture. The violinist comes from improvised music, a kind of jazz that also broke his schemes. I try to introduce all of that into my music. He has a great improvisational and opening part. What nourishes me is tango. If afterwards there are those who say "that's not tango", that's another problem. As I am immersed in that culture, and I work from that, because I work with other issues of tango, it is my culture.
Q.: When did you embrace tango?
PN: I always liked jazz and tried to play it, but it doesn't feel like mine. At some point I said "I have to look for something that has to do with mine, with my childhood", although I did not grow up studying tango. At some point it came, I don't know how but it came. It seemed inevitable to me, that this was what I had to do. Besides, there is the question of distance: being far away, one seeks to get closer to what was one's. I found that way with tango. I started listening to Piazzolla, which is the closest thing to jazz, and through him I went backwards and forwards. It is what comes out to me and what seems most natural to me.
Q.: What is your opinion of the new ways of consuming music?
HP: It seems to me that what was before is lost a bit. Before one listened to a record as if it were a treasure. It was hard for you to buy a record, you put it on and listened to it a thousand times. Now people consume music as if it were Coca Cola. Even the format in which it is listened to physically, assuming that MP3 is physical, lost a lot in quality. I think that one day the question of the real record that one has in hand, that looks at the cover, that sees which musicians are playing, that draws conclusions, will return. There is a question of unbridled consumption and to the detriment of a possible choice. It is not chosen, people are surfing the Internet and hunting what comes across. I listen to some things virtually and I find that they, I don't know who they are, know what you might like and they play music that matches your taste. I like to decide, not to be imposed on what I have to listen to. Silence was lost.
Q.: Music won public spaces.
PN: I know I'm talking like an old man (laughs), but now there is no silence. The other day, in a supermarket, they said "come shop on Tuesdays because it's quiet." They put it like they cared about the client's health. If they know that non-silence bothers me, I don't know why they don't do it every day. That happens everywhere. You go to an airport, to a station, and they impose music on you. Not to mention the volume and the inability to speak. It seems to me that the music must be chosen, it does not seem right to me that they impose it.
Q.: You give a lot of importance to the role of Ariel Prat on this album, what did he bring to you and vice versa?
PN: We come from very different backgrounds, even though I play a lot with him. I make very different music. He is based on the murga and is one of the great values, if not the highest of the murga at the moment. I come from a kind of tango but reconstructed, let's say. The murga is in 2 or 4 and my tango, or my way of seeing tango, isn't even in 4, it's in 5, it's in 7. I break the rhythms a lot. In that song I adapted to the most milonguero rhythmic idea, murguera. The composition occurred naturally, to such an extent that I saw myself building the lyrics and he the music, despite the fact that at first we had said it would be the other way around. We end up in osmosis.
Q.: Tango is already a classic. Do you feel that the murga is still a more plebeian genre?
PN: Specifically, yes. Tango does not stop having its popular roots. It seems to me that one feeds the other, both ways. There is no music that is hierarchically more than another. In any genre there can be sophisticated, quality or sincere things, which is what interests me: that the music be sincere. You can tell right away when music is made to sell. That the only objective of the composer or the producer is the sale. Sometimes perhaps it is even unconscious. It is something that repels me. I look for sincerity. When I hear something, I want to feel that that person is giving me something sincere.
Q.: How do you follow the path of the album?
PN: We have some Parisian performances. On February 10 we are going to play on a boat. This particularity occurs here. There are boats on the Seine, and some concert venues are boats. We're going to play at another jazz club. Then we have a tour in the south of France and we are planning a tour in Spain with Ariel for June.
Data sheet
Tierra del Fuego/The Variant of Tango
Pablo Nemirovski: bandoneon, flutes, composition
Didier Petite: cello, voice
Ricardo Mosner: paintwork
Suzanne Ben Zakoun: piano
Santiago Quagliariello: double bass
Khalid Kouhen: percussion
Guests:
Ariel Prat: voice (10)
Noah Clerc: accordion (10)
Nico Perez: guitar (10)
Sonia Nemirovsky: voice (6)
Olive Perrusson: voice (6)
Thomas Gubitsch: electric guitar (6)
Cristina Villalonga: voice (8)
Source: Ambito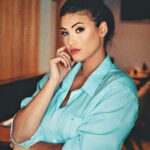 I am an author and journalist who has worked in the entertainment industry for over a decade. I currently work as a news editor at a major news website, and my focus is on covering the latest trends in entertainment. I also write occasional pieces for other outlets, and have authored two books about the entertainment industry.