When his candidate asked the 16,000 euro question, Günther Jauch got a fit of laughter. He was so strong that he could hardly present the next question.
That Stefan Schmidbauer is still on the candidate chair in "Who Wants To Be A Millionaire?" he had his predecessor to thank for that: Surprisingly, she slipped up on the 4,000 euro question and had to go home.
For Günther Jauch and the spectators, however, the 45-year-old Schmidbauer was an asset. As soon as he was asked about his job, he stated that he was not only an economist but also an animator, you could already guess that it could still be fun.
Schmidbauer chose the variant with three jokers, he was the "classic type", so he had the security level at 16,000 euros. And it was precisely with this question that he threw Jauch out of the concept. More precisely, it was the telephone joker.
Günther Jauch: In "Who wants to be a millionaire?" a fit of laughter plagued him

The question was a difficult one for the candidate: "Under what name do you not only know the 'bird of the year 1988', but also some citizens at the end of the 80s?" Possible answers are waiting: A: Follower, B: Nicker, C: Wryneck or D: Ass kisser.
Schmidbauer was about to log A in, but Jauch was able to persuade him to play a 50:50 joker. Since he didn't know the Wryneck at all, a telephone joker had to help out. He confidently advised answer C. But when Jauch asked him for the reason, he named Gottlieb Wendehals. Werner Böhm's fictional character, who topped the charts in the 80s with the song "Polonäse Blankenese".
But that was not what was meant. After the phone call, Jauch burst out laughing, saying: "That's why I think the show is so great here, it's a dream, you can't think of it."
Jauch laughed so hard that he almost cried. He couldn't even say the next question soberly, he was still panting. On his small screen was a message from his editorial team: "Do you need oxygen?"
When Schmidbauer soberly answered the next question about a weather term, Jauch promptly complained that the "humor level on the show had dropped very rapidly".
Schmidbauer's part-time job as an animator once again provided for amusement. Various images were displayed showing him dressed up in animal costumes. At events, sporting events and in department stores, he appears as Diego Dragon in a green costume with a yellow belly and yellow wings. Maxi Mouse is one of his favorite costumes, while Hops the Rabbit is particularly in demand around Easter.
The only disadvantage: In summer you sweat a lot in it. And he also has a ban: his wife forbids him to perform at bachelorette parties. Schmidbauer failed at the 64,000 euro question and fell back to his security level.
Source: Stern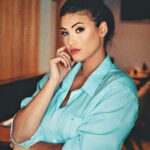 I am an author and journalist who has worked in the entertainment industry for over a decade. I currently work as a news editor at a major news website, and my focus is on covering the latest trends in entertainment. I also write occasional pieces for other outlets, and have authored two books about the entertainment industry.