There is nothing better than accompanying a national date than eating a typical Argentine meal. Get to know the step by step of the traditional empanadas from Tucuman, Salta and Santiago and choose the one you like the most.

This 25 of May commemorates the May revolution and on national holidays many families gather to celebrate. One of the foods typical of these encounters are empanadas. In Argentina There are different ingredients and ways to make this dish. we approach you four recipes so you can choose which one to do this long weekend.
Creole empanadas recipe
Ingredients
Half kilo of onions.
a pepper bell pepper.
100 grams of fat cow or of pigor six tablespoons oil.
Half kilo of meat ground or cut into small cubes.
Salt and pepper at ease.
Two tablespoons of peppers.
Two tablespoons of ground chili (may be more if you like it spicy).
a tablespoon of cumin.
Two eggs chopped hard.
A bunch of olives pitted or you go from grape.
Cap of Patty.
Preparation
Chop the onions and the Bell pepper in cubes very small and fry them in a cooking pot with the fat of cow or of pig or simply with about six tablespoons of oil hot.
Once the vegetables are tender, you should to incorporate the ground meat or cut into small cubes. The preparation should cook some 20 minutes. It is important to leave the lid on so that the juice does not evaporate.
Then season to taste, add the peppershe chili pepper groundhe cuminboth eggs chopped hard and a handful of olives pitted or raisins (can be a little of each).
Leave cool he stuffed before assembling the empanadas. In that way, the juice preparation will thicken with fat and it will be easy to put the filling inside the dough discs and make the repulse. Otherwise, the hot juice will spill out and you will not be able to assemble the Patty.
Once cooled, place the amount you want in the empanada cover and do the repulse. last to oven and ready.
Tucuman empanadas recipe
Ingredients
a tablespoon of salt gross.
Half a kilogram (kg) of matambre (the very thick part).
A onion big.
Three onions of green.
100g of fat from lump.
three tablespoons of oil.
Salt, pepper.
A heaping tablespoon of peppers.
a tablespoon of cumin powdered.
a tablespoon of ground chili.
a tablespoon of sugar.
Two eggs chopped hard.
tapas of empanadas.
Preparation
Boil three liters of water and add the tablespoon of coarse salt.
add the defatted matambre and let cook until that is tender. Once ready, drain it and take it to the refrigerator.
Once the matambre is cold, make fine cuts into strips with a very sharp knife, and then into squares little ones.
Clean and chop green onions.
Melt in a saucepan the pellet fat with the oil.
Cook in moderation common onion already chopped, until tender. Remove it from the heat and add the little onion chopped green. season with salt, pepper, peppers, cumina small spoonful of sugar and chili pepper ground.
incorporate the cut matambre into squares and combine well.
Cook for a few minutes all together. Coverleave cool and rest in the refrigerator until the next day.
Fill the lids empanadas with the mix cold, put a little chopped hard-boiled egg. Bake over high heat.
Santiago empanadas recipe
Ingredients
Five onions finely sliced
a tablespoon of peppers sweet.
a teaspoon of chili pepper spicy.
a kilogram of cow meat lean, finely cut with a knife into very small cubes (never chopped, only a very sharp knife).
a tablespoon of vinegar.
a teaspoon of cumin in grain.
four tablespoons of seedless raisins.
Four eggs hard.
Top of empanadas.
Preparation
blanch the meat going by water boilingjust a minute, remove and drain. season with salt fine, vinegar, cumin and the chili pepper spicyreserve until cool.
Meanwhile heat a piece of fat and sauté the onion finely chopped, when it is transparent add the peppers sweetthe chili spicy and salt to taste, let cool well.
When both fillings (meat and onion) are very cold, mix and mix.
Roll out the empanada covers on the allowance, place in the center a portion of fillingadd two you go from grapes, egg hard chopped and close with a repulse. Then baked and done.
Salta empanadas recipe
Ingredients
300 grams of butter.
Four onions chopped.
A tomato chopped.
a kilogram of meat boiled and cut into small cubes.
a tablespoon of cumin.
A dad cooked and cubed.
a tablespoon of White flour Flower.
Half cup water hot.
a cube of broth.
Two eggs chopped hard.
100 grams of green olives chopped.
100 grams of raisins.
Half a teaspoon of chili pepper ground.
Preparation
gild the onion with the butter and add the tomato. Stir and remove from fire.
put the meathe cuminthe dadthe flour and the broth prepared with cube meat dissolved in hot water.
Place back on the stove and bring to a boil. fire low, stirring so that it does not burn. Remove from heat, leave cool and add the eggs chopped hardthe olives and the raisins.
season with salt and the chili pepper ground.
Put a bit of the stuffed and moisten the edges with water. Close forming the Patty with the seam facing up.
cook them in oven hot during 15 minutes. Serve right away.
Source: Ambito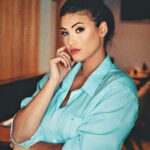 I am an author and journalist who has worked in the entertainment industry for over a decade. I currently work as a news editor at a major news website, and my focus is on covering the latest trends in entertainment. I also write occasional pieces for other outlets, and have authored two books about the entertainment industry.