Mar del Plata – "The education of pigs" is a striking title. It is not officially in the Festival, it coexists with it, and it is the new film by Eduardo Pinto, a family drama with Luciano Cáceres, Tupac Larriera and, among others, Búfalo Ortiz, asphalt veteran, ex-convict, world kickboxing champion and currently a musician. It takes place today on the only day in an alternative theater, awaiting the next premiere.
Also coexisting with the Festival, but somewhat more officially, are the Mar del Plata University with its usual "24 hours of national cinema" marathon (now divided into three days of 8 hours each, which makes it less fun) and Culture
of the Province, with talks, projections at the Museum of the Sea,
and the launch of Bafilma,
Free platform with more than 500 titles and other materials.
A public talk by Graciela Borges is planned for today, and the expectation is such that perhaps the room at the Chauvin Center will be too small. Juan Antonio Bayona's was at the Colón, prolonging the enthusiasm of his followers, who welcomed "The Snow Society" with cries of euphoria (at the beginning, at the moment of the rescue and at the end) and full houses of both. functions. From that talk, we collected the following paragraphs:
"My first encounter with cinema was when I was 3 years old, in a room that was a palace. I remember the image of Superman flying and the commotion around me. So I started watching movies, and there was a time when, when I went to bed, I was afraid that Jack Nicholson would appear with an axe, and I sought the protection of my twin brother. At 8, on a two-day trip to the Pyrenees (the first night away from home, something so important for a child!) the teacher showed us "Frankenstein", no less. But first he told us that the director did not want to film the first scene, and it was imposed on him. There I learned that in movies there is a director, and people who force him to do what he does not want.
"My first short, "My Vacation," told about a boy who takes some pills and ends up in Xanadú with Olivia Newton-John. "I don't know if they can find a relationship with my first feature, 'El orfanato'."
"When I was young I became a radio journalist at the Civic Center in my town, and with that card I went to the Sitges Festival. There I met Guillermo del Toro. When he went to Spain to film, I was at the Film School, and several students participated in his filming. He saw my short ones, and he encouraged me to go to the long one."
"I don't like Hanecke's cinema, where life is crap, nor Hollywood's, which is too naive. I put myself in the middle, like Spielberg, with whom we have a very similar sensitivity, and a very similar way of understanding the world. The darkness doesn't interest me. I am interested in my darkness, to give a little light. And a certain cynicism of this era bothers me, those people who raise their eyebrows when you talk about spiritual values."
"Cinema is associated with wonder, how the ordinary becomes extraordinary, but the most important thing is what you feel, your pulse, your emotions, the fears or responses that you find in yourself while watching a story. It's funny that through the lies of a movie you can understand reality, but that's how it is."
"It is much more interesting what the film tells you, and not what the director can tell you about his film. We directors say a lot of nonsense."
Source: Ambito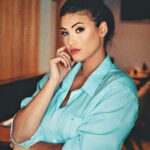 I am an author and journalist who has worked in the entertainment industry for over a decade. I currently work as a news editor at a major news website, and my focus is on covering the latest trends in entertainment. I also write occasional pieces for other outlets, and have authored two books about the entertainment industry.