The artificial intelligence (AI) It is in its renaissance stage. For those who are not yet very keen on the subject, AI is a combination of algorithms proposed with the purpose of creating machines that have the same capabilities as humans. A technology that is still in development but already has many companies interested in advancing development. In order not to be left behind by the "furor" of AI, we selected 8 companies with growth potential linked to this technology and that can be operated from Argentina with pesos through CEDEARs.
The first company that became known worldwide was OPEN AI, the company that created ChatGPT that, although it cannot be operated from Argentina, there are other options to consider. It is worth remembering that CEDEARs are papers that are issued in the Buenos Aires market to be able to operate in foreign stocks without leaving the local financial system. The interesting thing is that although they are assets that are operated in Argentine pesos, their prices are tailored to the dollar value of those shares in their home markets. And at their prices in dollars cash with settlement (CCL).
Microsoft invested $1 billion in Open AI in 2019. Reports highlight that Microsoft would own a 49% stake in OpenAI. For the moment, Brad Smith, president of Microsoft also presented reservations to improve the use of artificial intelligence and greater regulation of governments. He argues that it is possible to create a risk management framework for artificial intelligence in all governments. That way you would be better prepared to deal with any problems that arise. It is worth remembering that Microsoft's Cedear is operated on the Buenos Aires Stock Exchange.
2.Google (GOOGL)
From the leading search company they have been working on the development of Artificial Intelligence for the last two decades. Among some of Google's most popular products like Lens and Translate, they were built entirely using Artificial Intelligence, through the application of optical character recognition and machine learning.
3. Baidu (BIDU)
The Asian search engine has been working on the AI ​​application for more than 5 years. It recently gained notoriety again because it announced the launch in March of its own version of ChatGPT, named Ernie for its acronym in English.
4. Amazon (AMZN)
The e-commerce company uses machine learning algorithms to analyze its customers' behavior, browsing history, and purchase history in order to provide personalized product recommendations. This allows customers to find new products that may interest them and therefore increase the probability of making purchases on the platform, which improves Amazon sales.
5. Nvidia (NVDA)
The company has a strong presence in the development of graphic processing units (GPUs) – video cards – that allow the application of artificial intelligence. It was one of the companies that last week rebounded strongly due to its development with AI.
6. Salesforce (CRM)
In this case, it's a company that empowers administrators and developers with a rich set of services to build smarter apps and customize AI for their respective businesses. recently announced the launch of Einstein GPTmaking it the first AI-powered customer relationship management technology, which is expected to exponentially change the experience of every customer.
8. IBM
The company is considered one of the leading companies in the application of artificial intelligence as a cloud service. In addition, through several of its segments, it offers different types of solutions with integrated AI, which range from the use of IBM Watson, to the creation of flows and use of AI for data analysis and cybersecurity.
Source: Ambito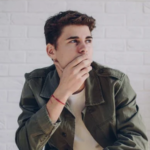 I am a 24-year-old writer and journalist who has been working in the news industry for the past two years. I write primarily about market news, so if you're looking for insights into what's going on in the stock market or economic indicators, you've come to the right place. I also dabble in writing articles on lifestyle trends and pop culture news.